Anyone that's been reading for the past couple of weeks will know that I recently got rid of my old Specialized Epic – half due to mechanical problems and half due to a slightly bad fit. Well, I've had a few thoughts about about attempting a bike build after watching one of my friends go through the same process last year. I saw how much satisfaction he now gets out of riding his own hand-built machine and, to be honest, it just looked damn fun messing around with the mechanicals and figuring it all out for yourself.
I've also found a few good bike maintenance tutorials that I reckon will get me through the worst, and I got a recommendation for this course which has load of maintenance videos: DIY Bike Maintenance. I might give that a shot.
Anywayl, with the departure of my Epic I thought now's the time, and I'm going to be logging the trials and tribulations of the whole process here so other may learn from my (many) mistakes.
So, step 1 – The Frame.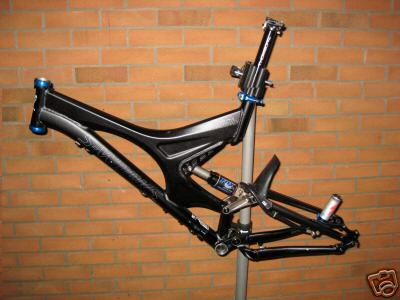 Firstly, I'm a pretty pragmatic and not very rich man, so right away I was looking at second hand frames. I've bought a few second hand bikes in the past as I don't see the point in paying full price for top end machines. A good frame will last years, so as long as it's in good nick when you get it then you're laughing as you'll easily save 50% of the price – even on a mint condition 1 year old frame.
So, the options. I do a lot of different types of riding, but one of the more important aspects is that I want to be able to go uphill. I love the smoothness and control that comes with a full suspension bike, bike I couldn't ride one that bounced so much, or weighed so much that I couldn't happily ride it cross country all day. I've got friends far fitter than I that I like to go on cross country runs with, and I don't need more reasons to be lagging behind them than my straining lungs! Add to this, though, the fact that I love crashing down the red at Glentress at full speed and I don't want an ultra-light cross country race machine rattling to pieces between my legs. As much as I admit that's not entirely likely (I'm no pro downhiller…) I'd still like the confidence boost of having something a little sturdier beneath me (stop sniggering at the back please…). So, I'm looking at the cop-out category, not quite cross country but not quite Freeride – All Mountain's where it's at.
I was looking initially at Santa Cruz actually – firstly the Superlight, but nope, that's too super light. Then the Heckler and that seemed to fit the bill as a sturdy but climbable machine. Yeti actually cropped up in my search too as a really good make, but I admit I don't know much about them so that never really took off. Then, my Specialized bias took hold again (my previous 2 bikes have been Specialized…) and I was looking at the Stumpjumper and the Enduro.
In the end, fate decided for me. I came across an ad offering a 2004 Specialized Enduro S-Works frame for just over £400 and I snapped it up as the bargain it was. The S-Works models are the top of the Specialized product range and the S-Works Enduro differs from the others in that it incorporates the Specialized Brain technology for bob-free pedalling. As someone who hoped to keep up with his hardtail friends this sounded pretty good to me. Added to that the fact that a brand new Enduro S-Works frame retails at about £2500 including a fork and I was sold.
Even better, the 2004 model was the last to feature the old frame design before changing to the standard top-tube, bottom-tube style, and the more unique the better! As one of my friends pointed out, it looks like some kind of crazy space gun, and that's got to be a good thing, yea?
So, that's the frame bought. Next step, components…
[tags]Enduro, S-Works, specialized, bike build, frame[/tags]