Adventure is a UK bike company with a pretty extensive range.  Along with the bikes, Adventure makes high quality accessories  like trailers for kids and cargo.  Adventure big thing is that they make bikes that are easy to assemble once they land on your doorstep.  For a demo of this commitment, just have a look at their website to see the huge range of video instructions showing how to assemble every bike they manufacture.
Getting to the kid's bikes though, Adventure makes a total of four bikes for children with girls and boys versions available.  Saying that, only the ZOOOM is considered a real junior running bike or balance bike for young children. So let's have a look!
The Adventure Bikes Zooom Balance Bike
Designed to be unisex, the Adventure Bikes Zooom is available in six eye dazzling colors including red, pink, blue and yellow. The Zooom is similar to most balance bikes in employing a lightweight aluminum frame, designed to make it easier for your child to stay upright while learning to balance. They also sport larger tires for better traction and control, and Adventure make a big deal of the high quality materials to go into these balance bikes.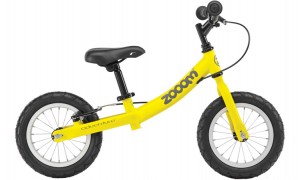 One difference between the Adventure Bikes Zooom and several other balance bikes on our list is that the Zoom has a rear brake. Whether this is necessary or not is a matter of debate; however, it does help the child learn how to brake when necessary.
The Zoom has a seat that can be removed and replaced with a different one to make it possible to continue using the balance bike even as your child gets taller. According to the manufacture, the Zooom is built for ages two through four.
When it comes to overall performance, positive reviews highlighted the bike's ability to teach kid's to balance and the low price point below many other comparable balance bikes.
On the downside, an Amazon reviewer stated that the bike arrived in pieces and without any instructions. Although it was easy to put together, the reviewer would have preferred to have directions. Check out the manufacturer's website for a how-to video on assembling the balance bike.  Another reviewer was disappointed with the bike's build quality; however, this seems to be an isolated incident.
The Rest of the Adventure Bikes Range
240
The Adventure 240 is ideal for an older child (10+) who is not big enough for an adult bike, but needs the challenge from a more advanced and larger model.  The lightweight alloy frame helps keep the overall weight down without sacrificing the ability to have a fun off-road adventure.  Features of the 240 include 18-speed Shimano gears, alloy V-Brakes and much more.
200
Once the child has learned how to balance, pedal and brake the next step is to put it all together in a more comprehensive model.  That's where the Adventure 200 Mountain Bike comes into the picture.  The 200 is an intermediate sized bike that is perfect for a child between 6 and 8 years old.  Has many of the same features of the 240 only in a smaller and more compact bicycle.
160
Designed to be the bike used after the Adventure BikesZooom, the Adventure 160 has pedals and front and rear brakes.  Because it is likely to be your child's first bike after learning to balance, be prepared for a bit of a learning curve as they get used to braking, steering and pedaling at the same time.
To learn more about Adventure Bikes, go to their webpage