Buyers willing to expand their budget from £500 to £1000 will open up the playing field to include bikes that have better technology and more features.  Many of the bikes featured below are ideal for intermediate to advanced riders who are looking for a bike that can maximize their riding experience without breaking the bank.
Upping your budget from £500 to £1000 gets you a bike made from better parts and a fair bit less weight making it easier to haul up steep trails.  At this price, expect each bike to have hydraulic brakes, a lightweight frame and a host of wee high quality upgrades.  If you're just starting out, but you're planning to become a consistent mountain biker this is a decent entry level.  This way you won't find yourself purchasing a new bike after only a few months of riding.
Come on, let's take a look at the best mountain bikes under £1000.
5.  Canyon Bikes Grand Canyon AL 5.9 (£799.99/999.99)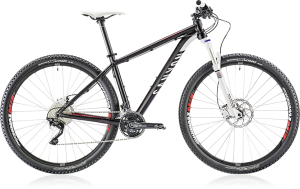 A relative newcomer to the mountain biking industry, Canyon Bikes are a German based brand that is quickly building a cult following.  The Grand Canyon AL 5.9 is the ideal bike for an intermediate rider who is ready for a more advanced bike, but not ready to spend the big bucks.
Riding on 29" wheels, the Grand Canyon keeps the rider in control at all times with large wheels that can overcome any obstacle.  However, you don't have to be worried that the larger wheels will sacrifice performance because of the bike's lightweight aluminum frame and high quality Shimano gear train.
4. Cube LTD 29 (£899.99)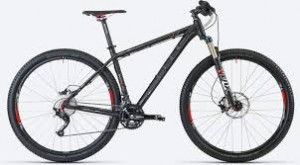 Weighing only 12.7 kilograms, the Cube LTD 29 is manufactured from lightweight aluminum that keeps the weight to a minimum while still giving the rider plenty of control and stability no matter the elements.  Available in five different frame sizes, riders will have no trouble finding an LTD 29 that works for them.
One nifty feature of this bike is that all the graphics and logos are applied to the bike with weight saving paint so that the mountain bike will look good while still performing at its peak.
Have a look here for more information on the Cube LTD 29.
3. Boardman Mountain Bike Pro (£999.99)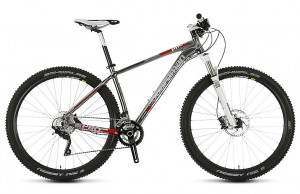 Named by What Mountain Bike as the Best Value Mountain Bike of the Year, the Boardman Mountain Bike Pro offers many features more commonly found in bikes costing quite a bit more.  In addition to being made from the lightest aluminum possible, the Boardman has Avid Elixir R hydraulic disc brakes that are designed to be easy to maintain while still being able to stop on a dime.
Built by hand, this Boardman bike rides on 29" inch tyres and can be purchased in several different frame sizes to fit any type of rider.  Perfect for the all around rider looking for an excellent bike that will provide many enjoyable rides without breaking the bank.
Have a look here for latest offers: Boardman Mountain Bike Pro
2. Scott Scale 940 (~£750-950)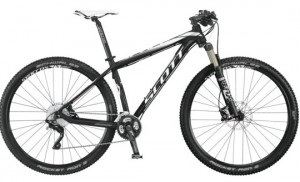 An excellent all around mountain bike, the Scott Scale 940 has an alloy frame that has weight saving technology.  With this bike, riders get the latest Scott technology, like a tapered headtube, that improves the bike's stiffness to increase safety and control while on the trail.
Because the bike is made with the same geometry as more expensive Scott products that utilize a carbon frame you'll be getting many of the same benefits at a fraction of the cost.
Have a look here for latest prices on the Scale 940
1. Specialized Rockhopper Pro (£1000)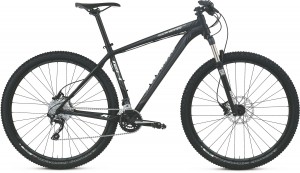 Designed for both cross-country and all mountain riding, the Specialized Rockhopper Pro offers excellent performance at a terrific price point.
When selecting this bike, riders have the option of selecting from three different versions: Rockhopper Comp 29, Rockhopper Pro Evo 29 and Rockhopper 29.
Although the Rockhopper Comp 29 is the flagship model, all three models offer a lightweight aluminum frame, hydraulic disc brakes and specialized 2×10 gearing that reduces weight while optimizing acceleration.
Have a look here to find the latest Rockhopper Pro offers.
Honorable Mention: Trek X-Caliber (£1100):
Although the Trek X-Caliber is above our £1000 threshold, we felt that this mountain bike deserved an honorable mention.  Manufactured with the assistance of famed mountain biker Gary Fisher, the Trek-X Caliber utilizes the lightest possible Alpha Gold aluminum frame than any of the aforementioned bikes.  In addition to the state of the art frame, the X-Caliber features Avid X1 Elixir hydraulic brakes and the newest SRAM drivetrain.
Have a look here for latest prices on the Trek X-Caliber
Your 'Best Mountain Bikes Under £1000'
Given that every mountain bike is different, it is always best to explore the features, advantages and even the cons associated with every model.  What works for one mountain biker may not be the same for the next.
We believe that the models mentioned above best represent the top bikes available to purchase at under £1000. With that said, I'd love to hear your ideas. What's your Best Bike under £1000? Let me know in the comments.