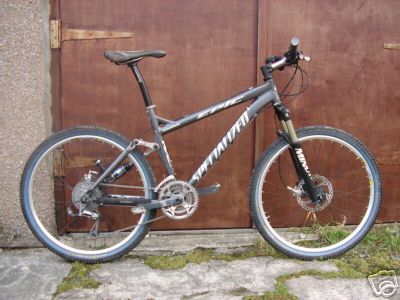 I've spend the last month or so thinking about getting a new bike, and basically wanting to upgrade to full suspension. Well, the original plan was to wait till spring and see if I could pick something up in the sales, probably a low-end Kona or a GT.
But, in the meantime I had been looking at bikes on ebay just out of interest and had discovered some real bargains, or what looked like it anyway! I like my Specializeds having earned my biking wings on a Rockhopper and I was seeing Stumpjumpers and Epics going for £500 – 600.
Well, last week, after having been at the pub for a couple of hours I jumped on ebay for a quick look before bed (never a good idea…) and saw an Epic Marathon going for £550. My beer-addled brain just couldn't resist and I put a bid in for just over £600. Amazingly, I got it! The bike's worth about £2700 new so I was pretty chuffed but slightly worried that it would turn up with cracks all over the frame.
I got the bike through the post this week tho and it's near perfect! The rear derailleur needed replacing but other than that it's a great machine and I'm looking forward to some great days out on it, with my ass loving the cushioning provided by my brand new rear suspension.
Anyway, enough of that, I'll post a proper review of the bike itself once I've had a bit more time to try it out.