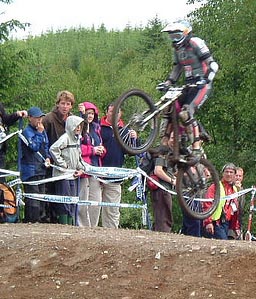 There was some good news this week for downhillers as the government announced that it was allocating £67,000 to creating a new downhill trail to complement the existing world cup course at Nevis Range.
The new trail will apparently be a less hardcore version of the existing world-class trail to give more recreational riders a taste of high speed downhilling without quite so much risk of breaking yourself on route. It doesn't say specifically in the plans but I can only assume this means creating a nice descent which still benefits from the gondola uplift. It seems like the logical way forward considering that the current downhill course is way out of range of the average weekend biker. Gondola tickets are currently a little bit pointless unless you own a full-face helmet and proper body armour, but a new, more accessible trail should see ticket sales soaring.
I reckon it's also pretty good news for biking in general – it shows that the sport is at least on the government map for funding and it can only be a good thing for us, resulting in more trails and more facilities. I'm already thinking ahead to a day at Nevis range where I can blast round the Witches Trails to get the legs and lungs working before jumping on the gondola for a few descents of the new downhill.
I'd never give up the uphills altogether – the growing belly wouldn't forgive me – but i'm all for grabbing a lift back up for one more descent after the exercise is all done!
[tags]Nevis range, downhill, mountain, bike, biking[/tags]