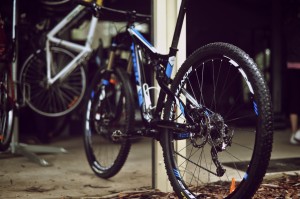 It's time for the Mountain Bikes Apart Podcast, Episode 2.
This week I'm going back to one of my more popular posts which centred around mountain bike maintenance, and how often your average person does it. I was a bit curious at the time about how often other people wash their bike, strip it down or even give it a proper service, as I'd gone quite a while with very little of any. Bad form, I know, from someone who builds his own bikes and enjoys a good tinker with them from time to time.
I know a lot of bikers who grease and oil their steed after every ride, but it's just not me. I'm not a filthy b**tard by any means, but I just don't think a mountain bike needs that kind of attention. If I wanted to keep it that pristine I wouldn't spend my life haring it down nice, muddy singletrack. I'd get myself some lycra and start eating tarmac.
Anyway, have a listen to the podcast to find out more, and let me know what you think.
Why Does it Sound like I'm Reading…?
This episode is, as I mentioned in the introduction podcast, a read-through of a previous blog post. The first few episodes will be read-throughs of old posts as I build up a bit of content with which to launch the podcast, but we'll get on to fresh content very soon, by Episode 5 at the latest.
Anyway, as always, please do leave me some feedback – let me know what you think of the podcast so far, from content to quality to whatever. Let me know what you'd like me to cover in future. You can do so by getting me on twitter at @colinmcgray, or dropping a comment in the space below. Thanks for listening and I look forward to hearing from you!
Image Credit: Johnonolan – flickr
Podcast: Play in new window | Download