I haven't posted a kit review in a while so I thought I'd have a look at one of the longest serving items in my kitbag – the trusty Cannondale Roams, my mountain bike shoe of choice.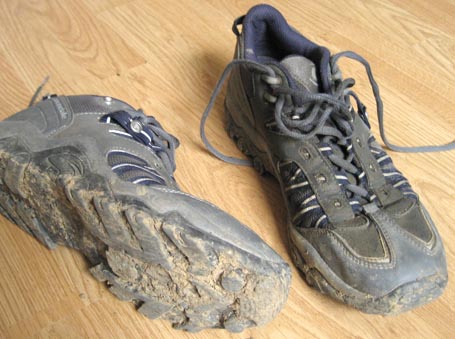 When you're looking at cycling shoes there are two paths you can tread. Firstly, there are the one purpose, specifically bike-only products which you usually see on road bikers. These tend to be very slimline, made with a fair bit of plastic and are as rigid as possible to transfer all your pedalling power to the cranks. The disadvantage is that they're pretty tricky to walk in, often causing 'hilarious' episodes, for your friends anyway, as you skite off a rock and land upside down with your bike on top of you. Secondly, there are the more multi-purpose products which generally resemble outdoor shoes which have been designed to work with cleats. This type are a lot easier to walk around in and don't garner you as many strange stares as you slip and slide up the aisle in tesco buying your trail rations. Given that I'm more into long distance, cross country riding than racing I'm not too bothered about the extra stiffness and weight saving nature of the disco slippers, so I tend towards the more normal looking range.
I upgraded to a pair of Cannondale Roam bike shoes just over a year ago now and they are typical of the trainer-style range. They look just like a normal set of outdoor shoes of the Merrell or Salomon ilk, but they pack in a few extra features that display their cycling origins.
First off, the Cannondales strike a great balance between off-bike comfort and on-bike ability. Trudging through the mud they achieve great grip due to the chunky tread throughout the sole and the two studs at the toe. The rubber's also soft enough to adhere to rock and other hard surfaces so you wont slip as soon as you leave the mud. On the bike the ease of walking ability doesn't seem to impair the transfer of power to the pedals. The soles are easily stiff enough for daily riding and none but the keenest racer will complain of flex.
The only problem I have with the fit and the shape of these shoes is that they are slightly narrow at the front for me. I sometimes experience a wee bit of cramp in my right foot after a few hours, but I tend to get that in other footwear too, particularly Skiing boots, so I probably can't fault the Roams for that. Something to be aware of though if you have particularly wide feet.
As for other features, the Roams are pretty well insulated with leather covering a fair bit of the surface. On many a ride my friends in their skimpy little slippers have been complaining of soaking, cold feet while I'm still warm and dry. They also have a pretty sturdy toe box and decent protection all the way around, thus protecting your little piggies from toe-cracking rocks. Obviously this carries with it a weight penalty though and the Roams are indeed a little on the heavy side compared to most shoes.
Finally, the Cannondales have a nice little lace-tidy which keeps the little chain snaggers away from your crankset – handy if you want to avoid getting tangled up in the drivetrain – and feature a fair bit of reflective material so if you're using them on the road they help with your visability.
I'm pretty sure that there are better shoes out there, but perhaps not for the money. You could find a pair of Cannondale Roams online for under £50 last time I looked and none of them had the same quality and feature range as these. They're a little heavy, and might not be the best choice for the flipper-footed among us, but for an all-day shoe I haven't found better.
Put it this way, as soon as the soles fall of my trusty pair, I'll be onto Chain Reaction for an exact replacement and I don't think you can say better than that.
[tag]Cannondale Roam, mountain, bike, biking, shoes, review[/tag]