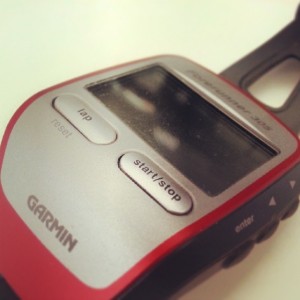 I've been thinking about getting a heart rate monitor for a while now in a, probably, vain attempt to get my training into gear for some summer racing.
I have a couple of far-too-fit friends who highly recommend heart rate monitors and keep trying to lend me heart rate specific training books, saying that there's nothing better for focussing your training and getting the best results you can. I have to say it appeals being able to make sure I'm keeping up a decent level of effort as my natural idle tendancy is to ease off the gas if I don't concentrate, or even sometimes if I do…
Anyway, earlier in the week I was having a look on amazon to see what I could find, initially eyeing up the cheap-as-chips £15 monitors, but sadly my weak spot for gadgetry got the better of me and I ended up looking at some slightly higher end kit. About £100 higher end…
I'd seen some of the Garmin kit a while ago in a local running shop and immediately dismissed it as being far too expensive, but having seen them again on Amazon I looked into them a bit more. Now I wish I hadn't… I haven't mentioned it so far on this blog but my aforementioned gadget weakness is more akin to a disability. Often is the time when I've gone out to buy something simple, such as a radio alarm clock for example. £10 from Argos the average man in the street might say. And he'd be right. But I see that clock and think, "Fine, that'll do." But then my eye drifts to the next page and sees the one with automatic satellite adjustment. Well, not having to press the 'Time Adjust' button twice a year is worth an extra tenner isn't it? Then I notice the RDS equipped model on the next page and my techno-addiction kicks in. New technology? Can't get less, must be up to date! And so the price starts going up. In the end, I walk out of the shop with an alarm clock that streams your entire music collection from you computer while slowly raising the dimmer on your lights, with a price more commonly found on a small car.
So, as soon as I found out that the Garmin could record your entire route via GPS, associate it with speed and heart rate and plot the whole thing on a map on your PC I was sold. Useful functions for someone of my athletic and competitive level? Absolutely not. Cool as hell and gadgeting it to the max? Hell yes!
I've signed up with Amazon associates so I can feature links to some of the kit I'm talking about, and here's one opposite. The unit itself does look pretty big and bulky, but it's listed at a mere 75g so a quick haircut should sort out the gain in riding weight!
So, expected next week, a new Garmin Forerunner. Probably the 305 model, because of course I can't resist the extra features. I'll let you know how it is!