Back to the 7 Stanes Glentress Trail guide and we're continuing on up after the short, sharp downhill section called Pennell's Vennel.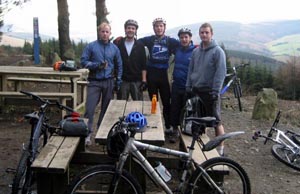 As you follow on the Red trail from the bottom of Pennell's vennell we find a welcome departure from the previous long and monotonous fireroads. The next section, barring a quick traverse around a little wedge of road, is all lovely singtrack, switchbacking up and up. There's some sharp little corners in here too with some unexpected rocks so it's worth keeping the concentration switched on, and it comes to an end all too soon by dumping you out onto, yep you've guessed it, fireroad, but don't worry, not for long.
At this junction you can go left or right – left takes you on up the red run, but right offers a little shortcut, starting you around half way down the red descent. Just head right and first left, and you'll see the downhill descend to your right if your short for time and want to be heading down. For those wanting to see the awesome spooky wood at the top though, there's no alternative but some more up and heading on round the fireroad bend to the left brings you to the traditional picnic bench stop, before the steepest switchbacks on the ascent. This next section is good fun, with a couple of nasty, tightly packed corners (especially the first pair you come to) and after busting your legs for 5-10 minutes you'll come to a gap-in-a-wall that takes you up to the last little bit of fireroad.
Where the gap-in-the-wall is now you used to find a horrible little rocky corner which took a lot of balance and brute force to power over, but now it's been all smoothed over and you'll have no problems. It's a shame actually as I used to enjoy the quick little challenge it offered on the way up, but no fear, there's a couple of branches off to the right about 20m on full of mud and roots that offer something even harder. It's just not the same tho, and memories of smacked knees and rock-impaled hips live on…
As I said, the last bit of fireroad follows this, heading into the cover of trees and branching right. You're then offered a quick little collection of berms before the last 2 or 3 climbing turns which lead you to the summit of the red run. There's a last little challenge right at the end in the form of an eternally moist rock step-up which can catch the best rider off guard from time to time. I've had a couple of friends tip over to land in the trees to the right amongst a shower of expletives, but providing you keep the concentration in check, congratulations, you're there.
Check out the view, and the wind-sock if you're feeling high flying. Undoubtedly there will be a motley crew of kids in jeans, lycra clad racing boyos and fully padded-up downhillers jockeying for space around the picnic benches, but no matter because you've got spooky wood to look forward to now – some of the best descending singletrack you'll ride in the UK. But that's for the next installment. Recover from the uphill exertions and I'll see you next time!
[tags]Glentress, 7 stanes, trail, peebles, mountain bike, mountain biking[/tags]