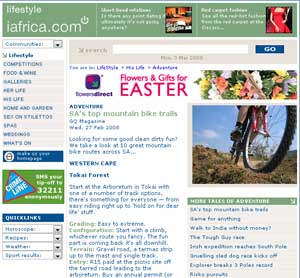 Now, here's somewhere I've never considered before for a mountain bike trip – South Africa.
Outdoor adventure magazine iafrica.com just released an article titled South Africa's top mountain bike trails which details 10 trails across the country, from Tokai Forest in the west to Hogsback in the East. Most of them sound far more cross country on non-bike specific roads and trails than custom made singletrack but they look pretty interesting nonetheless. A friend of mine has visited South Africa a few times and always comes back with stories of how beautiful the place is so I've no doubt a few treks through the countryside on my trusty bike would be pretty amazing.
I suppose I shouldn't be surprised but I'm definately chuffed when I see evidence like this that mountain biking is really taking off around the world. I think we're really lucky to have the kinds of trails we have around Scotland and in the UK so if we get the same kind of facilities around the world then all's the better. Keep building trail builders!