The UK has some of the best trails and mountain biking locations in the world. With such riches on your doorstep, there's no reason to settle for the same tired descents and trails each week.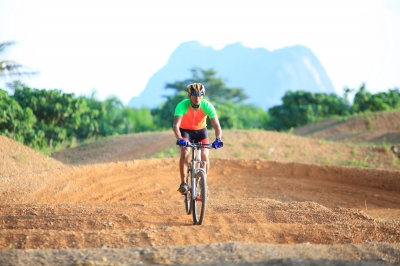 A mountain biking weekend at a new destination doesn't have to break the bank. There are many reasonably priced packages, or you can choose to bond with the soggy British countryside by camping.
Booking a Camping Weekend
Keeping a mountain biking weekend to a budget is easy if you don't mind camping. There are inexpensive sites dotted all over the country, and they provide the convenience and freedom that means you can simply get on your bike and head off into the mountains as and when you please.
When looking for a campsite, one of the most important factors you'll want to consider is location. You want to be as close to the trails and bridleways as possible, so less time is wasted travelling and more time spent riding. A campsite with showers and laundry facilities will make the trip that little bit more comfortable. Depositing a day's worth of sweat and mud around a tent can quickly turn a trip into a miserable experience.
Some campsites offer dedicated bike storage areas to keep your pride and joy safe. This campsite in the Afan Forest Park, Wales is particularly bike friendly. You can hire bikes, store yours securely and even wash it using their facility. Many other campsites will be happy to let you leave your bike indoors as long as it's clean, but it's best to ring ahead and check this in advance.
For an alternative UK camping weekend, it's hard to beat Gorsebank. Set near the renowned 7stanes Trail Centres in Scotland, visitors can sleep in wooden pods and rest safe in the knowledge their bikes are protected in the secure storage facility.
Best Mountain Biking Weekends Tours in the UK
If camping isn't your thing, another option is to go on a mountain biking tour. These organised packages provide a structured way to experience the very best a location has to offer. While you may be restricted by riding in a group, you'll benefit from the knowledge of local experts who will ensure you have an amazing adventure weekend.
Dales Bike Centre is brilliantly located in the middle of the Yorkshire Dales. Guided mountain bike tours of the Dales are available, and beginners can arrange for one to one riding tuition. To top it off, you can return to heavenly four-star rated accommodation after a hard day pounding across the hills.
For a fantastic way to explore some of the best ascents and descents Wales can offer, Clive Powell's 'dirty weekends' are hard to beat. Whether it's an introductory weekend for beginners – or a resilience-destroying 'epic weekend' of all day riding – homely cooking and comfortable accommodation prove to be a welcome incentive at the end of the day.
A mountain biking weekend in the UK is a fantastic excuse to get away and ride somewhere new. With so many different iterations, The UK can offer something for everyone. If you can recommend a destination to savour or avoid, let us know in the comments section.
– Image courtesy of www.freedigitalphotos.net (wandee007)