Kiddimoto in a Nutshell
Kiddimoto is an English bike business that specializes in balance bikes for kids. They also do helmets, gloves and many other accessories to make biking more enjoyable and safer for young children. Kiddimoto offers a full line of stylish and functional wood balance bikes in addition to scooters, motorcycle inspired bikes and aluminum balance bikes.
Because it has a full line of balance bikes, parents can purchase multiple Kiddimoto bikes as their children age and need to be challenged more. Kiddimoto bikes and accessories have won multiple awards for their safety, style and innovation. Every Kiddimoto bicycle includes a 1-year limited manufacturer's warranty that covers if something breaks or fails on the balance bike.
Kiddimoto Superbike: a bike for growing up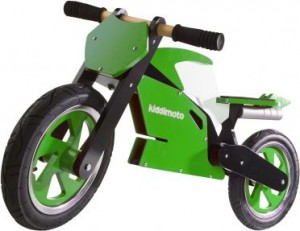 Designed to mimic the look and feel of a motorcycle, the Kiddimoto Superbike will have your child flying around the neighborhood in next to no time. Available in several different colors, including blue and red, the Superbike is sure to appeal to even the most pickiest of kids.
The Superbike is built for children ages 2 to 6 years old and has a low center of gravity that makes balancing easier while minimizing the risk of an injury caused by falling. Parents will appreciate that the bike has a steering lock that prevents the wheels from being turned beyond 30 degrees meaning that the Superbike will never jack-knife out of control.
Large 10 inch tyres make it easier for your child to balance while still challenging them to get used to not having stabilizers. Because the seat is adjustable and the handles can be moved forward and back, you don't have to purchase a bigger balance bike while your child grows.
By the time they have outgrown the Superbike they should be prepared to ride a larger bicycle without any training wheels. Although many of the reviews are positive with parents citing the ease of use and ability to balance as good things, the bike does receive negative marks for poor durability. One review stated that several of the bike's components and parts began to fail more quickly than they should have.
Other Kiddimoto Balance Bikes
Scrambler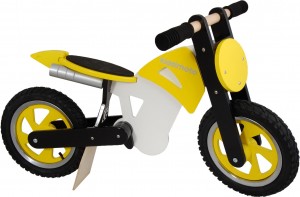 Available in a multitude of colors, the Scrambler line of balance bikes resembles modern off-road motocross bikes. Although you won't want to take this bike on any trails, it does offer studded tires, better traction and is perfect for pushing the limit's of a child's outdoor imagination.
Chopper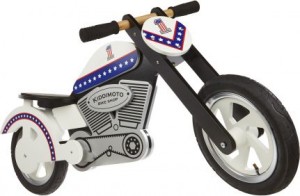 Let your child choose from an impeccable artist's rendition and replica of an Evil Knievel, USA or Flames Chopper. Has the same
Herofeatures of both the Superbike and the Scrambler, the Chopper series of balance bikes is just more artistic and creative to look at. It is slightly more expensive than both of the aforementioned balance bikes.
homage to the greatest motorcycle racers of the past few decades with an entire line of replica balance bikes. Each bike features a unique paint scheme that mimics a racer of the past and the same safety and design features of the other balance bikes.
To find out more about Kiddimoto go to Kiddimoto
Image Credit ~ Kiddimoto.com