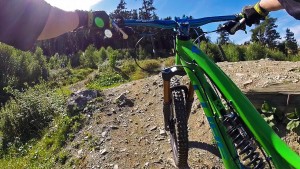 It's such a great feeling when you finish that perfect mountain bike ride. The sense of satisfaction after completing a long day in the saddle is one of the best things about mountain biking, but not every ride is always quite up to scratch, right? Sometimes, it can feel more like a chore than fun.
To help make more of your rides closer to perfect, we've come up with a few tips we've picked up over the years. Here are 5 easy steps to more enjoyable mountain biking, at any time of the year!
Ride with your mates!
The best experiences are shared experiences and having a group of friends along helps make mountain biking more enjoyable in lots of ways. Firstly, having a group ride already organised will make it far more likely that you'll get out the door in the first place. Having people who you're accountable to will make you less likely to cancel if the weather looks questionable or you're feeling a bit tired.
Secondly, mates provide humour and friendly chat which will add to the fun factor of your ride. Having people to talk to about the trail, your bikes and general life will see the time passing really quickly. What's more, if you or your mates happen to take a tumble, it's far easier to laugh it off than when you're alone in the forest!
Try out a new trail
Do a bit of research and find a trail that you can ride that gets a lot of praise from others. Good places to go are forums, forestry commission websites and of course, Mountain Bikes Apart! Some of the most motivating and fun trails are those that have been purpose-built for mountain biking.
These include the 7 Stanes centres in Scotland and Coed-y-Brenin in Wales. In fact, there are many to be found right across the UK. These trails typically hold up well in any type of weather and are designed principally for fun. Featuring berms, jumps and chutes, they're a great place to hone your skills as well as to ride fast.
Choose the right tyres
Having tyres that suit the conditions that you're riding in is critical to a solid MTB ride. A lot of MTBers will keep the same tyres on year-round, perhaps out of sheer laziness. However, using season-specific tyres might be one of the best and easiest ways to instantly improve the fun factor of your rides.
In the summer, using low profile, fast-rolling tyres will give you much more speed than a more aggressive tread and offer more traction in the corners when the trails are dried out. On the flip side, trying to use these low profile tyres in the wet and mud is an instant motivation killer.
When the weather turns grim, switching to winter tyres is always the best way to go. These tyres feature widely spaced knobs to help with mud shedding, as well as a spiky tread pattern. They'll bite into the mud to maintain grip.
Always take basic tools and spares
A puncture or other mechanical issue need not ruin what would have been a perfect ride, providing you come prepared. Having just a basic selection of tools will often see you through most issues that can happen out on the trail and allow you to get back up and running easily.
We'd recommend a puncture repair kit (even if you're running a tubeless tyre setup), a trusty multi-tool that includes a chain splitter, a basic set of allen keys, a torx key and a screwdriver included, as well as a good mini-pump or CO2 inflator. These can be packed up smaller than you'd expect and stored in a saddle bag or a hydration pack if you're using one.
Finally, include a cafe stop!
Having a cafe stop as a focus of your ride is a great way to make a great ride even more enjoyable. There's nothing better than replenishing with some cake and a pot of tea after all!
A Question for You
What do you think makes a perfect MTB ride? And what's ruined a perfectly good ride for you in the past? We'd love to hear your tips, so drop them in the comments below!