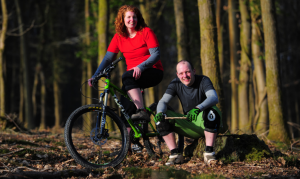 Pandas the world over have spent decades wailing and gnashing their teeth at the human race's sheer bare-faced cheek. We've long wasted their favourite snack in the pursuit of house building, clown stilt manufacture and the creation of pointless curly bathroom ornaments for Ikea. It seems they've only just discovered a new patch of sweet, delicious bamboo when a bunch on humans in trucks turn up, whip it away and turn it into hideous blinds for a middle aged woman's cat filled cottage.
Well Pandas, your luck has changed. Bamboo is no longer being put to such tedious purposes, and is instead being funneled into the glorious sport of mountain biking!
I have to admit, before reading about Trail 42, I hadn't realised that bamboo could be used for anything other than the aforementioned, only half-joking purposes.  The creation of bamboo clothing is a new one to me, but I'm glad it came to my attention.
Trail 42 is a new mountain biking apparel manufacturer from the UK, founded by Ruth and Rich Hallet. They saw a gap for well designed ethical clothing in the biking market and decided to fill it with bambooey goodness.
The principle is simple:
High quality, ethical materials
Designs based on tons of real feedback from the trails
Subtle branding for the discerning biker
The Sweat Test
I got hold of a trail42 t-shirt a few months back and I've been trying it out over the winter. I've put it through many a sweat-fest on the turbo trainer, right through my leg recovery, and it's proved to be a really comfortable training top.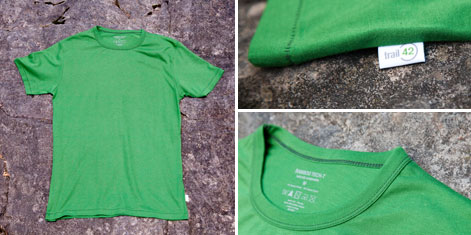 The bamboo material is nice and soft, more like cotton to the touch than any other training top I've worn. To me this is a great start as, despite the wicking advantages, cycling tops are often a bit rough to the touch, and grow pretty uncomfortable over the day.
According to Ruth, the bamboo material is naturally wicking and anti-bacterial, and I have to admit I agree. Through numerous hour long sessions I never felt sodden, and the material remained comfortable throughout. As for the latter, I'm shamefully forgetful when it comes to sticking my biking clothes in the washer after a ride, so I've tested the bacteria fighting properties well. The top never smelled by the end of a session, and even after finding it on the floor a few days later, it never smells half as bad as some of my older shirts.
The Fit
One thing that often bugs me, and many others, about biking tops is the fit. Short backs that ride up and medium shirts that wouldn't fit a skinny ten-year old. I know cyclists tend to be on the lean side, but come on! I was sent a medium by Trail42 and it fit me perfectly. I'm certainly on the skinny side of normal, but not tiny by any means. I'll wear a small in normal t-shirts and jumpers, so, by close-fitting training measures, it seems just right to me. The shirt is long enough that it wont pop out of your shorts at the back, and, while the sleeves are a little tight fitting, they're short enough to not get in the way and do the job just fine.
The Conclusion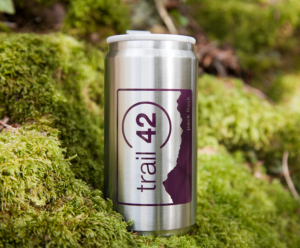 After owning one for a few months, I'd recommend a Trail42 top to anyone. I love the material – so comfy and yet so practical, wicking your hard earned trail sweat with ease.
And it's always great to see ethical brands popping up so you know your money isn't going towards a sweat-shop in Asia, so that's a nice little bonus. This top has been a great companion on the slog back to fitness after the big crash last year.
Great work Ruth and Rich, looking forward to seeing what Trail42 come out with next!