It's an open secret that a lot of road cycling photography – not just in big races but ride reports and bike tests too – is done by people in cars or on motorbikes; I have to plead guilty to using a car on occasions myself. However, part of the joy of mountain-biking is that you get to places where cars and motorbikes can't go. Even at trail centres, a mountain bike photographer really has to be a mountain bike rider, and it's still more true when you head out on the natural trails.
This may seem like stating the bleeding obvious, but it's still worth making the point, for two reasons. One, your mountain-biking kit has to include a camera – but there's an awful lot of choice and that's the subject of Part 1. Two, taking photos usually means stopping; we'll look at the implications of this in Parts 2 and 3.

Mountain Biking Camera Choices
There's plenty of choice – maybe even too much – in today's camera market. However, we should be able to narrow down the choices pretty quickly. First, though, let's dismiss one criterion you don't need to worry about: megapixels. Almost every camera you can buy today has more megapixels than you'll ever need; unless you want to make huge prints (far bigger than your home inkjet can manage) or shoot for magazine spreads, forget it. An HD TV image is less than 2 megapixels.
For me personally, 95% of cameras are easily ruled out because they don't have a viewfinder. Cameras (and phones) which force you to use the screen for framing your shots are a real pain in bright light and are also harder to handle for some specific types of action shot – and there's plenty of action in mountain biking. I know lots of people seem to manage just fine, but actually I think 'seem' is the word: without a viewfinder you will struggle, or miss out entirely, on some shots. And there are now some pretty small cameras with very useful electronic viewfinders (EVFs).
Taking the the main categories in turn:

Smartphones
Obviously, a smartphone means screen viewing, with all its limitations, but they still have a huge appeal – one device that fits in your pocket, shoots stills and video and lets you navigate, time your descents for Strava and book a table in the pub for afterwards. The best of them do decent quality images, at least in good light, and there's a whole raft of software and hardware to extend their possibilities even more, especially for the iPhone. However, they will struggle to capture fast action and especially action sequences.

The 'traditional' digital compact camera is rapidly losing market share as buyers migrate either to smartphones for convenience or to system cameras (see below) for quality. I'd certainly say there's little point in buying a cheap compact any more – except that it'll be less traumatic if you smash it in a crash.
Otherwise, there are two main kinds of compacts worth a look: waterproof and shockproof models like the Pentax WG-3 GPS; and high-end models with better lenses, extra features and (with luck!) better build quality. Examples could include the Nikon Coolpix P7700 or Canon Powershot G12; the Canon even has a viewfinder, of sorts, but the Nikon feels more sold.

Large-Sensor Compacts
This is a growing but still specialised class. Their sensors are physically larger, but they don't necessarily have more pixels than other cameras. Without going into the technical background, this means that they produce far better image quality in all sorts of ways, including the ability to reach into dark shadows and bright highlights. Image quality also holds up much better in poorer light, like Glentress's Spooky Wood on a dreich afternoon. On the other hand, they are chunkier than 'ordinary' compacts and tend to be expensive. They're mostly aimed at serious photo enthusiasts and even pros looking for a pocketable second camera.

'Bridge' cameras
Also known as long-zoom or superzoom cameras, this category is harder to define but – in my view – easy to ignore. They tend to be relatively bulky without any obvious advantages – those very long lenses have little value for most mountain biking photography – and examples I've seen don't seem too robust either.

Compact System Cameras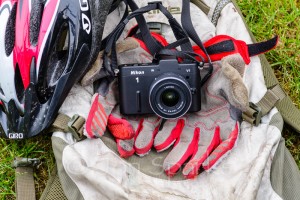 This is still a fairly new category and for a while we weren't sure what to call them: 'Electronic Viewfinder Interchangeable Lens' gave us the tasty acronym EVIL. But some of these cameras don't actually have an electronic viewfinder and the duller – though shorter – 'compact system camera' (CSC) has prevailed.
The pioneers of this class are known as Micro Four Thirds cameras; examples include the highly regarded Olympus OMD-EM5 or the Panasonic Lumix DMC-G6. There are also varieties with larger (SLR-size) sensors, like the Sony NEX series, and others built on more compact lines, like the Nikon 1 family and Pentax Q10.
I get to play with a fair number of cameras but I'm not a full-time reviewer and haven't tested all of these by any means. However, I use a Nikon 1 V1 fairly regularly and in most respects I'm very happy with it. It has the essential – a decent viewfinder – and also has extremely fast and accurate autofocus.

SLR (single-lens reflex) Cameras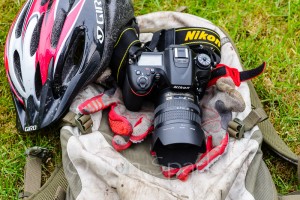 With a direct line of descent from 35mm cameras, this is in many ways the most traditional class of digital camera. While bulk and weight are a factor, the smallest (like Canon's new EOS 100D) aren't much different from the larger CSCs, but you're still looking at a minimum of 600g for body and lens. Nikon's D3200 is no monster either, and I've always found, completely unscientifically, that – like for like – Nikons feel more robust than Canons. Another to look at is the Pentax K-30, which has extra weatherproofing.
SLRs and CSCs are system cameras, with interchangeable lenses and a range of other accessories making them incredibly flexible and extendable tools. The defining difference is that SLRs have an optical viewfinder, which relies on a reflex mirror which flips out of the way when you take a shot. This is what makes them bulkier than CSCs with the same size of sensor, but on the other hand optical viewfinders still give a clearer, brighter image and they don't drain your batteries like electronic ones do.

Tough choices
I'd love to have a smaller, lighter camera that I could carry when riding, but so far, for me at least, everything else I've tried still feels like too much of a compromise to finally lure me away from my SLRs. I do like the little Nikon 1 for more casual use, but image quality isn't up to magazine spread standards. It also annoys me that it has to be powered up every time I haul it out of its resting place; I can leave my SLRs switched on all day, so they're always ready to shoot. For serious picture-taking, and especially when a pay-cheque depends on it, for me the SLR still rules.
But my requirements may well be different from yours. The first essential when choosing a camera is to have a clear – but realistic – idea of what you want to do with it. The second is to read reviews (nowhere more comprehensive than the excellent dpreview  ), talk to other users, and, if possible, get a hands-on tryout of any camera you're interested in.