I've been banging on about it for a while, but big news folks – I've finally bought my [5:10]s! Yip, a pair of Greg Minnar [5:10] mountain bike shoes currently grace my surprisingly small and girlish feet. Cue cheers around the world, sighs of relief, high-fives around the offices at five ten HQ. Or possibly just a big silence. Who knows. I'll go with the first option.
In any case, let's not beat about the bush – yep, they're awesome.
A bit of background – I've been a clipped-in kinda guy since very early in my mountain biking days. I heard all the hype about clipless pedals and the control, power and safety they offer. After a few early jaunts to Glentress and some dicy pedal slipping moments I began to think they had a point.
Of course, this was me riding on a pair of stock standard bottom-end Specialized Hardrock pedals and a pair of running shoes. Shock horror, guess what – shitty pedals and completely unsuitable shoes equals one hell of a slippy, unsafe, ankle slicing, ball crushing ride. Not actually coming to that realisation at the time, off to the Bike Co-op I went and purchased a shiny new pair of Northride shoes and a pair of basic Shimano SPDs. And on I went through a series of shoes and cleats to my current Cannondale/Time A-TAC setup which has served me well for about 2 years.
Recently though I realised – in an amazing deduction of logic, I thought – that perhaps a decent pair of shoes might make flats a bit more useful. Again, this isn't new to the blog, I've written about changing to flat pedals before. So, onto the web and a few reviews later I found that 5-10s seem to be where it's at. Let's do it then, I thought, and added another eye watering sum to the financial hemmorage that is my credit card.
I have to say though, they live up to the hype. I bought the Greg MInnar 5-10s, set up with the tacky-ass sole 5-10s are famous far, but including a cleat inset should you need them. Well, let's not burn my bridges I thought…
I've got a nice pair of Kona flat pedals – nothing too fancy, but with a good set of pins on them – and, I have to say, they grip like a fat kid on his favourite sugar based snack. I'm amazed at how secure they feel, after the initial first shaky line of course. Finding how to ride jumps and drops with flats, sucking the bike up and slamming it down, was a fun experience, and I think, as I hoped, it's hugely helped to improve my riding.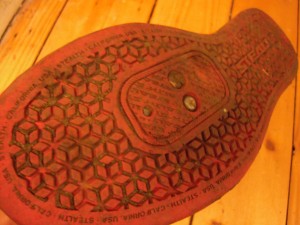 Berms are more fun now with the real option to put a foot down as needed. Technical obstacles just feel more tackle-able, if that's a word, now that I can escape the bike so much more easily.
In case you're wondering, I haven't noticed any loss of power on the uphills. I'm not convinced that many people REALLY pull up with their opposite foot, or, if they do, that it makes much of a difference. I'll take the added manouverability of being able to put a foot out on a technical up, and the growth of my riding skills thanks to the removal of my clipless crutch.
Hell, I'm even learning how to bunny-hop properly! No pulling up with my feet or anything!
I suppose this isn't really a review of the 5-10s as I've no other flats to compare them to, but I can't imagine them being any better to be honest. Take this from a near-virgin flat mountain bike flat pedaller – they stick like glue, and look pretty cool too. There, I've thrown in a rhyme to sweeten the deal. What more could you want?
---
And, just a wee message from a friend:
There is a great giveaway going on at the Traffic Generation Cafe Blog, your ultimate hub for all things web traffic, where you can win your own copy of the hottest plugin release of the year – CommentLuv Premium. Participating is very easy: just visit Ana's CommentLuv Premium giveaway page for more information.