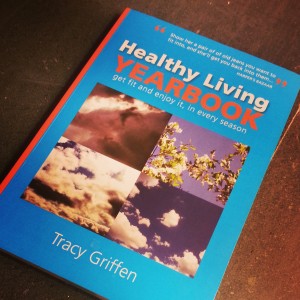 This is a bit of a departure from normal programming, but hey, it's Christmas, and I'm too tipsy and fat from festive living to get out on my bike… Plus, actually, that leads me nicely to what I'm looking at right now, and that's Tracy Griffen's Healthy Living Yearbook. I think I need to start reading this sooner rather than later.
I got a copy direct from Tracy a few weeks back and I've been leafing through it since then. It's a funny old book – a real mishmash of different content, ranging from exercise tips to recipes to general advice on wellbeing – but it's all aimed at healthy living and the variety makes for a really interesting read.
The most interesting thing about it is that the content is arranged by month, just as the title suggests. It really is a book that intends to be read all year round. You pick it up on a regular basis, have a look through for the relevant month, and browse through a range of advice tailored to the season.
For example, I learned that brussel sprouts, leeks and cauliflower are the veg to eat in March – eat 'em while they're fresh as they say! I also discovered some damage control advice in August, assuming you've headed to the Edinburgh Festival for the month and plan on taking advantage of the late pub opening hours. Then I read a bunch of really useful winter exercise tips so that I can keep up the training when the dark nights draw in during November.
I've been dipping in and out of the book over the past month and pick up a few nice little tips each time. I have to admit, I'm cheating a bit and reading the wrong months. But hey, I glad I didn't wait till the spring to find out how to cook Buttery Beany Carrot Soup .
If you're a training pro, already weighing out protein for every finely balanced recovery meal, and following your tailor made 12 stage enduro preparation schedule, then there might be a little less here for you. But, if you're like me – a guy/girl with good intentions and a decent base, but sometimes lacking quite the right motivation – then this could be a really good buy. It might give you a healthy recipe tip at just the right time, or the strength to resist temptation at another.
Thanks again to Tracy for sending this over, and if you want to have a look yourself, check it out here on Amazon or look up Tracy at Griffen Fitness.
Anyway, that's enough work for now – back to my beer and mince pies. Enjoy your holidays!