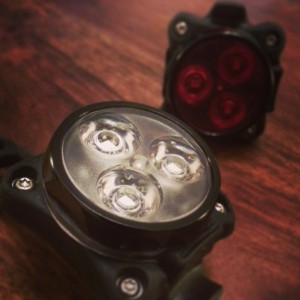 There are a whole lot of advantages to living in Scotland. The rugged landscape is one hell of a setting for all of the crazy activities we get involved in. There aren't many places in the world better for mountain biking, and I've even had snow days on the mountain comparable to the alps, skiing in 2 foot deep powder with a blazing blue sky above me.
But, one thing we don't have a lot of is… sun.
This afternoon, close to the shortest day of the year, the sun set outside my window while I was halfway through my afternoon. 3.30…?! What in the hell is that about? It only dragged it's hydrogen-burning ass over the horizon about 7 hours ago!
So, you might say that Scotland is a pretty good place to test a light. Especially in mid December. Well, let's see if this set of Lezyne Zecto Drive bike lights can spread a little illumination in the deep Scottish darkness. We sure need it!
The Lezyne Zecto Drive
I received a set of these lights mid-November from Dave over at Global Bike. The first thing I thought was how neat the package was. They're pretty tiny little things, and really solid. The build quality is great, made up of tough rubber, plastic and metal casings.
Charging is really easy – the lights follow the recent trend of dispensing with batteries and coming with a USB cable instead. I plugged them in, and went to bed, ready give them a first try-out on the dark commute to work in the morning.
Super Versatile Mountings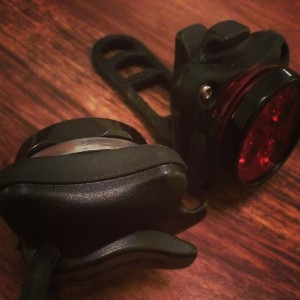 The best thing about these lights is a combination of how small and flexible they are, along with how versatile the mounts prove to be. Over the past month I've had these on 3 different bikes, plus my head, and they fit in seconds to every one. Well, maybe a little more than a few seconds to my head…
Seriously though, the rubber mount stretches around just about anything on your bike. The seatpost and bars are fine, as expected, but I've also had them on the back of a pannier rack and a helmet. The only thing you might find them hard to fit to would be an aero seat post – the back of the light just wouldn't fit such a sharp edge.
Plus, yes, I meant that about my head. On a walk up the local hill of an evening, I was missing my headtorch, so I put on a buff and used the clip to attach the white front-light. It took a bit of fiddling, but I got it steady and it worked a treat. Talk about multipurpose.
Flash Patterns
The lights have a bunch of flash patterns, as you'd expect these days. Nothing new here, although they do promote a 'daytime flash' which is super-bright – enough to raise your visibility even in daytime. They also have side LEDs which increase the arc of visibility. The side LEDs aren't as bright as the front by any means, but they give you a nice little bit of peripheral vision at least.
But are they Bright?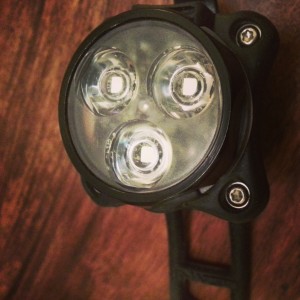 We can talk about the extra features all day long, but really it comes down to the brightness – can they light up the night?
The lights blast out 20 lumens on economy and 40 on high. You can get 80 lumens out of the daylight flash mode if all you're looking for is sheer visibility. This translates to a pretty decent beam, definitely plenty to have you be seen by the traffic around you. The side LEDs are nice for that purpose too as they give you a bit of extra visibility from the side.
In the dark though, I found them just a little weak to go it alone. I took these out to the local trail for a bit of night biking and had a go with just the front light on it's own guiding my way. Uphill was fine – the light was plenty enough to see the trail by – but as soon as I got a little speed up it just didn't do the job.  I switched on my trusty old Halogen (yea, I've got pretty retro night lights, but they do an amazing job) and night was turned to day.
To be honest, it would be silly to expect anything else – the Lezyne Zecto Drives cost only £25 while my halogen night lights were close to £150. My lights have a battery pack you could use to knock out a bull while the Zecto Drive would fit in the pocket of my lycra running shorts. It's an unfair comparison.
Summing Up
The Lezyne Zecto Drive lights are great little bits of kit. They're rugged enough to last you years, and versatile enough to fit every bike you own between now and then. They'll even save you a fortune on batteries as you go. On brightness, they're definitely a light to be seen with, not to see by, as they say. But that they do amazingly well. These will be staying on my bike this winter, and hopefully a few years beyond.