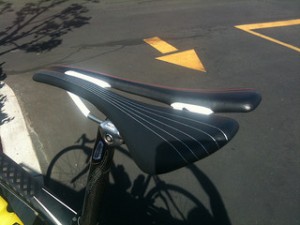 Mountain bike saddles get a lot of stick, but it's fair to say you'd have an even more painful ride without one! It's not exactly surprising, though, since even a super-padded saddle can cause a bit of pain. This is because, on average, it's taking more than half of your weight throughout the ride, causing anything from slight chafing and irritation to much more serious health issues. You only have to mention the words prostate and impotency to send males running cross-legged to the ultra-expensive end of the saddle rack.
Choosing the right saddle takes time, research and, often, trial and error as there are a whole lot of different factors to consider. It's pretty vital to make the effort, though, as the right saddle can completely change your ride, not to mention protecting your delicate undercarriage.
Mountain Bike Saddle Types & Shape
Mountain bike saddles come in a range of different shapes to suit a variety of uses and body types. For example, gender-specific saddles are better for women because they are wider to accommodate the wider spacing of the sit bones – or ischialtuberosities. However, sex is not the only factor that will play a part in the shape of the saddle; the type of biking you are doing will also have a major impact.
General Mountain Bike Saddles
Saddles designed for general off-road riding tend to stick to one particular style; a downward sloping nose and shapely rear area. They are usually very lightweight and narrow, but have substantial padding with reinforcements on crash areas.
Racing
This type of saddle is very narrow as they are designed to prevent chafing and offer the rider full movement. The saddle will put more weight onto your hands rather than the seat, so they have minimal padding and a stiff top.
Gel
These saddles use a gel, not too dissimilar from the material used for breast implants, to act as a cushion for your bum. The gel sits between the hard plastic base and the top cover and moves with your body for increased protection.
Cutaway
Material is removed from the seat of the saddle to relieve pressure points and make the shape much more flexible. Contrary to popular belief, the cutaway in the saddle was never designed to hold a rider's genitals! Cutaway saddles are designed to prevent numbness and discomfort, but are particularly good for beginners.
Noseless
As the name suggests, these saddles do not feature the traditional nose found on the majority of bike saddles. This style of saddle has been popular in the US for some time, but has only made a name for itself in the UK in recent years. The design is supposed to reduce pressure on the perineum and shift the rider onto their sit bones. These aren't particularly prevalent in mountain biking though since the nose is pretty useful for those horrendously steep climbs.
Saddle Components
Shell
The shape of a mountain bike saddle is determined by the shell. Hard shells are commonly made using a moulded plastic, such as nylon, or carbon fibre, but some even sport leather shells. Rather than the hard shell, a leather saddle uses a thick piece of fabric to create a hammock between the rails. Many riders will claim that leather shells are the most comfortable because over time they conform to the user's shape.
Covering
Most saddles have a cover on top of the shell or padding. This covering can be made from all sorts of materials, from leather to Lorica or even bulletproof Kevlar. The saddle cover won't affect your ride significantly, but add much needed friction and durability if you are prone to falling.
Saddle Mounting
No matter what type of saddle suits you best, the majority of them all have one thing in common: rails, also known as a cradle. Traditionally, there are two rails that run parallel on the underside of the saddle.
Rails used to all be made from carbon steel with chrome plating, but nowadays titanium is usually the material of choice because it's lightweight. Other materials that are commonly used are carbon fibre and aluminium, magnesium or chrome-moly tube, they can also be solid or hollow.
Some newer bikes might already have the rails integrated into the shell or the new i-beam which uses two clamping bolts and extends along the length of the saddle. This type of mounting offers a much wider adjustment range.
Mountain Bike Saddle Brands
Image Credits: Flickr ~ Danstheman
Flickr ~ Evanharvy
Flickr ~ sasgenu