I drove down to Ae forest at the weekend to watch the first round of the 2008 downhill National Points Series (NPS).
I've visited the Ae line, part of the 7 Stanes network, a few times and I love the cross country trail (a trail guide is to come for that, next visit…) but I had never actually seen the separate downhill section. So, after arriving I walked right up to the top and couldn't believe how ridiculously rutted, rooty and steep some sections are. I could get down it on my own bike, but it wouldn't be pretty, and it certainly wouldn't be fast! I'm also not going to pretend I'd even attempt the step down, which hopefully you'll see below with some psycho flinging himself off the top.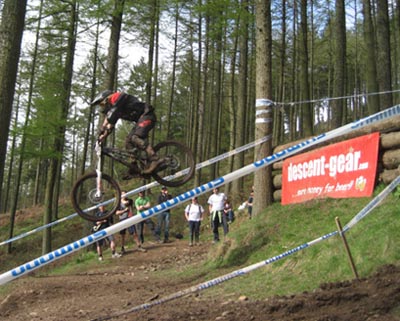 Admittedly, having stood on the top of it, it's one of those classic mountain bike obstacles that looks far more scary than it actually is. I'm sure if I managed to grow some balls and take it with enough speed it probably wouldn't be too bad, but I reckon that moment is a while away yet! This time next year, we'll see… Anyway, I was consoled by the fact that even some of the guys in the Expert Men section were bypassing the death-dealing behemoth so I didn't feel too bad.
Anyway, the racing was pretty amazing, from the crazy-assed Juveniles skidding all over the place right up to the Elite Men, flowing over the terrain like water. I was standing in a quiet spot near some nasty rooted turns, a little above the step-down, mainly because I really wanted to see how the pros got around corners like that. I know I lose most of my speed in the tight turns rather than the berms so I was looking for some education. I picked up some tips too which I'm itching to try on my next ride so I'll let you know how I get on with that.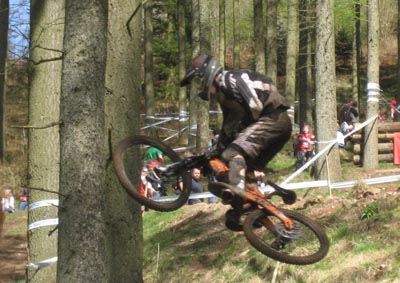 As to the competitors, I have to admit I'm only getting to know the names this year, but even I'd heard of the Athertons, and Marc Beaumont and Brendan Fairclough were also in attendance. The most impressive sight to me, though, was the small frame of Rachael Atherton flying down the trail, almost catching the girl in front. She finished 1st of the Elite Women and 30th overall beating the majority of the Expert Men section and a fair chunk of the Elites. Two of the Juniors did amazingly well too, with Joseph Smith coming 1st and Danny Hart 2nd, both beating every one of the Expert Men category.
The Elites were obviously what everyone had come to see though and the noise picked up by a fair few decibels as soon as the top 10 seeded racers started coming down the hill. It was amazing to see them negotiating the roots, jumps and berms as if they weren't there, and it inspired in me a whole new desire to get my ass out there and get faster.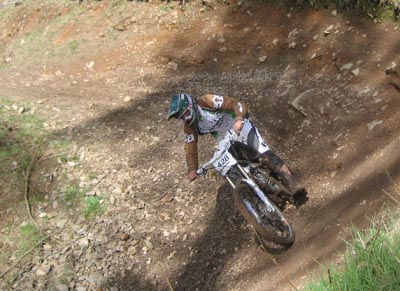 In the end Dan Atherton was leading with two riders to come; his brother, Gee, and Marc Beaumont. Beaumont, second last out, came in a second slower, but Gee dashed him brother's hopes, cutting his time by 3 seconds to finish in 2m23s. I saw Dan afterwards leading his bike into the Atherton stand looking a little grim faced, but Gee was off near the podium grinning like a maniac and giving 3 interviews at once.
The whole thing was a great day out and it was amazing to see some of the guys and girls risking life and limb for a lightning fast time. I'll definately be heading to watch the later round at Innerleithen anyway, I wonder if Dan can wipe that smile off his brother's face this time!
[tags]ae forest, downhill, NPS, mountain, bike, biking, atherton[/tags]