A central Scotland trail guide from out regular biking girl, Sarah Morton.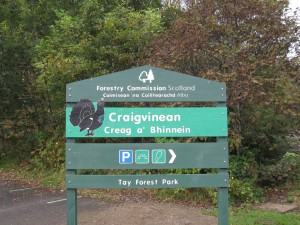 It's been so long since I've been out on my bike, that I'm sure the poor thing thinks I've left the country. So with a bit of awesome weather hitting Scotland for the first time in ages – I even topped up my tan – I made a promise that I would be on my bike the next day!
I've been meaning to get over to Craigvinean Forest Trails in Dunkeld for ages – and so a plan was made.
Craigvinean Forest Trails – Vital Statistics
Terrain: Mixed – everything from smooth road, to nice trails, to technical downhill single-track – lots of ascent
Distance: Various
Highest point: I went to 275m – you can go higher
Bike: I used a hardtail
Starting Out Cold
In true Scottish form, instead of blue skies and sunshine, I woke up to grey skies and snow. I half-heartedly, and very slowly, packed my kit and bike into the car, and made the forty-odd mile drive over to Dunkeld – thinking for the duration – this is going to be the worst trail ride ever!
The weather wasn't much better as I pulled into the car park of The Hermitage, and it was about five degrees colder, but I gritted my teeth and hopped on the bike – and I am so glad I did, the Craigvinean Forest is an absolutely awesome place for a spin!
The range and quality of trails on offer is outstanding – there really is something for everyone – that said, it's pretty much ascent from the word go, so I imagine a good level of fitness would be a must – I've not been out in months though, and I stabilised after the first ten-fifteen minutes. It would probably be best to say the ascent is almost constant, but not steep. On the plus, ascent only means one thing – plenty of descent! I managed to get up a good bit of speed, even with a face full of snow and mud – the climb is definitely worth it!
I didn't opt for any one particular route – I just mooched around, exploring a range of different trails – there's a logging road, which would be suitable for almost anyone willing to peddle uphill – plenty of trails – really cool single track, which was covered in snow and probably a bit on the technical side in sections – and the downhill. I'm no expert on downhill trails, but this just looked class – through the trees, plenty of obstacles and very steep! There were lot of guys suited up with shin guards and full-face helmets – as much fun to watch, as to participate!
Any level of biker could spend all day zipping around any of the trails in the Craigvinean Forest and feel very satisfied – not sure if it was the bad weather, but it was pretty much me and my bike for the duration – once I headed lower towards the River Braan and The Hermitage it got a bit busier with walkers, but for a Sunday it wasn't all that bad. Perhaps that would put some people off taking the trail along the river, but it's one of the highlights and I would really recommend including it at the end of your route – definitely some good photo opportunities!
Overall, an excellent place to spend the day on off-road trails – I wish I'd known how great it was going to be and would have got there earlier – it was just so much fun, and I'm very much looking forward to spending many more days there in the future!
I parked in The Hermitage car park – which is a National Trust car park, and you will have to pay if you're not a member. There is another car park slightly higher up – just follow the trail from The Hermitage car park – I'm not sure if you have to pay for this one. There was a Landrover running the downhill bikers up to the start of the downhill trail they were using – I didn't get a chance to speak with them, but there were quite a few, so my guess is that's a local service that would be openly available – although I'm not 100% sure, so please don't quote me on that! I couldn't find any pit-stops for cake, coffee, whatever your poison – the nearest place is Dunkled, which is a short drive back down the A9 towards Perth, but there are loads of local towns quite handy – there were however, plenty of spots to have a picnic on site – good weather or not.
Trail Highlights
• Views to the Highlands – Pinecone Point is perfect for a picnic!
• Lovely trails – nice to ride
• The Hermitage
• Good opportunities to learn/practice technical skills
• Excellent downhill
• Lots of little routes to play around in
Have you been to Craigvinean Forest Trails? Let us know what you think!