Thanks for listening to another episode of the Mountain Bikes Apart Podcast! This week we're talking wheel sizes after a question from Kevin Scott, and fellow Scottish listener. He was asking about the pros and cons of the different types of mountain bikes wheels.
I'll let him do the talking:
Morning, as a newbie mountain biker who has only ever been up Glentress red route (breaking my virginity and almost me) and Carton Wallet <Colin: I'm thinking this might have said Carron Valley before Kevin's mobile phone auto correct butchered it… But let us know where you mean Kevin!>  which was much less harsh. Thankfully the hard part was closed at the time. Just a few questions here, I bought a Carerra Kraken which seemed to get decent reviews but didn't feel right, but for you is it a 26″/650b or 29er? Which of these wheel sizes you think are suitable for the novice? And which bike in each category would you tentatively recommend.
In the podcast I talk about the pros and cons of each wheel size, and a little about Kevin's choice of bike.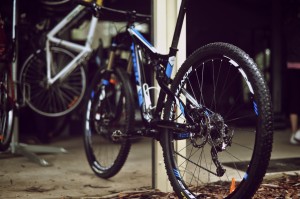 I actually recommend the Carerra Vulcan as a brilliant budget bike in my Best Mountain Bikes Under £500 article, and the Kraken is a slightly upgraded version of the Vulcan, so definitely a good choice.
If you're interested, you can see some of my related articles below (I've written a bit about wheel sizes in the past) and they'll direct you to some more info on each, but I pretty much cover everything in the episode.
As usual, I'd love to get some feedback from you so drop a comment in below, or email me using the contact form, or even send in a voice message! I'm using my work number of +44 (0)131 208 1811 so just phone that and you can leave me a message which I can use on a future episode.
Thanks again for visiting, and enjoy the riding!
Podcast: Play in new window | Download