Welcome back to the Mountain Bikes Apart Podcast – up to Episode 5 and motoring on to double figures! So, what have got for today?
This time on the Podcast I'm responding to a listener question. Here's what I got from Tatsu Kiriyama:
Thank you very much for your interesting and informative podcast. Colin, you have been a great source of information the past few weeks. My only complaint is I wish your podcasts were longer….although I understand that you would like to stick to the short format.

I recently purchased a Giant Talon 1 27.5″ to replace my well used five year old Specialized Hardrock Sport. In the two months of ownership I've yet to take my bike on any serious trails but I have logged about 400 miles on Strava riding the local trails in sunny Southern California.

A podcast on your favorite I phone applications for tracking your ride might be interesting….maybe a comparison between a few apps?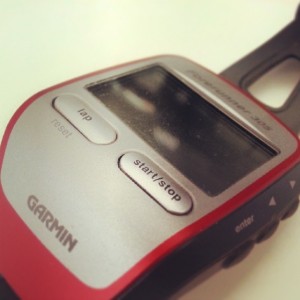 So, being en eternal geek alongside my biking fetish, I thought I'd tackle this one straight away. There's not much in the way of tech that I HAVEN'T tried out on my bike, from simple Catseye computers up to full GPS systems.
As you'll hear on the Podcast, my setup these days consists of a Garmin Forerunner 301, paired with the Garmin Cadence sensor, and firing all of the data from that into Strava as my analysis/competition platform.  I also use my Samsung Galaxy S3 as a recording device sometimes, running the Strava app, but the accuracy isn't quite as good as my Garmin, so that's what I stick to most of the time.
I'll cover a few alternatives though, mostly heard about from conversations with other bikers, or through discussions on forums, online, etc. The main ones I've come across are Endomondo and MapMyRide for training platforms, and for recording devices I've heard good things about the Soleus GPS range, and the Timex Run Trainer. I think for biking options, and flexibility in changing between disciplines, though, the Forerunner has it, as you can set up screens to show different stats depending on what type of exercise you're doing. Eg. Pace in minutes per mile for running, and speed in miles per hour for cycling.
Other things mentioned this month:
Feedback & Guests Please!
As always, please do let me know what you think. Send an email through the contact form, drop a comment in the section below or tweet me on @colinmcgray. I'd love to know what you want to hear about on future episodes.
Also, I've love to get some guests on. Do you race mountain bikes, amateur or pro? Do you repair bikes, or build bikes? Are you a training or a skills coach? I'd love to talk to you about what you do in biking, and get some tips around particular topics. If you have any ideas, get in touch.
Podcast: Play in new window | Download