We're back with another episode of the Mountain Bikes Apart podcast, and this time, we're talking about the central piece of the bike, and that's the frame.
There are a few different options open to you when choosing a frame, depending on the type of riding you do, what your budget is etc. Here, myself and Colin talk through the options, what we use on a daily basis and which type of bike suits each type of mountain biker.
First up, hardtails!
The most basic type of frame on the market is a hardtail, or a frame without any rear suspension. This is what most people's first bike is likely to be. Hardtails are great as they will do for most types of trails, are easy to maintain and are cheap, lowering the barrier to entry for mountain biking. Colin and I discuss the different types of hardtail you might get to suit your riding style.
An XC race hardtail will typically have a longer top tube and will use geometry set up for a fork of around 80-120mm travel.
A more all-mountain frame will have a "slacker" head angle (i.e. a more sloping top tube) and will be set up for a larger fork (e.g. 150mm) without it negatively affecting the handling. An all-mountain hardtail is likely to be a great option for those riding a multitude of different trails. Have a listen to what Colin has to say about switching back to a hardtail from a full suspension setup!
Softails?
Softails are an evolution of the hardtail and have come to prominence in the XC racing scene. The aim to offer the benefits of a regular hardtail in terms of power transfer, weight etc, but with a little more "give" in the rear end to make the ride more comfortable.
Merida have come out with a great 29er softail with the new Big.Nine, which uses flex in the carbon to add to the comfort, where other players like Trek and BMC use elastomers to offer a tiny amount of travel without using an actual pivot.
It'll be interesting to see the evolution this bike, but it's already proving successful for riders like Gunn Rita Dahle in the women's field and Julien Absalon in the men's.
Full suspension frames
Some of the most common mountain bikes nowadays use full suspension frames, in other words with suspension at the front and at the rear. You'll find almost all downhill bikes are full suspension, as well as plenty of options through all-mountain and right down to XC racing.
The key benefits you'll get from a full suspension, as we discuss in the show, are comfort and energy saving. Whilst not as light as a hardtail in general, full suspension bikes do help with climbing insomuch as they keep the rear wheel planted to the trail.
The downsides are obviously the weight, but also the loss of power transfer if the rear suspension isn't efficient. Using the lock out features that most of these bikes come with however, can offset this somewhat. The other less-talked-about disadvantage is the increased maintenance. From having to replace the bushings and bearing to being more difficult to clean, full suspensions are undoubtably more effort to keep running smoothly.
We'd recommend one if you ride technical trails, ride all day and want to most comfortable ride possible. As much as myself and Colin like our hardtails, our full suspension bikes are also fantastic.
Some other considerations
In the podcast, we also go through some further considerations when you're looking to buy a frame. The most obvious is price, and your budget is a key variable when making a choice. If you're really stretched, we'd recommend some kind of hardtail, as you'll get more for your money.
As we mentioned, you'll choose your frame principally on what type of riding you do, and it makes sense to bear tyre size in mind. If you like to run wide tyres for maximum grip and control, always make sure the frame you're considering has the clearance to cope with them.
We want your questions!
Please send us any feedback and any questions you have that you'd like answered in a future show. We'd love to host a Q&A episode in the near future, so do get in touch! You can find myself and Colin on Twitter at @bytombell and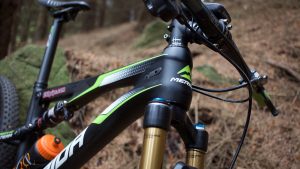 respectively, or email us at [email protected]. We'll see you on the next show and happy listening!