In this first episode of Season 2 of The Mountain Bikes Apart Podcast, Colin and I introduce Cross Country (XC) racing. We discuss how to get into it, how to train for it and what demands it places on riders as compared to other cycling disciplines.
Never Miss an Episode
Join 1000s of existing subscribers & get notified
Our new co-host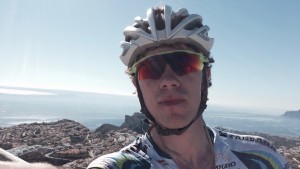 In this exciting new season of the podcast, we kick off the show with a brief introduction to myself, and talk a little about my introduction to mountain biking and my progression to the top levels of the discipline. We dive into a brief look at the life of a professional mountain biker, and what it demands of an athlete. This is something we'll cover more in a later episode, so stay tuned!
I also talk a little bit about riding at a young age and then deciding to take the sport seriously in my time at university.
Getting started in XC racing
We then move on in the podcast to talk more about the sport in general, and what some of the best ways are to get into Cross Country racing in the first place. We introduce everything from regional level racing such as the Scottish XC Series and Midlands XC Series, but also higher-level national and international racing too.
We explain how the points system and rankings work in the UK, as well as on an international scale too through the UCI, the World's cycling covering body . We also speak about finding races close to you and that suit your racing interests, by searching the calendars on the British Cycling, Scottish Cycling and Welsh Cycling websites.
Fundamentals of training
As we get into the heart of the show, we chat about how to train and prepare for the specific demands of XC racing. One of the fundamentals of training is consistency and making sure that you're always training regularly to gradually build fitness. We talk a little bit about how often you should train, some tips on how to structure this training, as well as keeping training specific to the racing you'll encounter.
In addition, we touch on the importance of variety in your training, and why this is important for strong motivation and willingness to train. We highlight too that variety is key to stress the body appropriately to cause an adaption and an increase in fitness.
Planning your XC training
With a foundation of training knowledge in place, Colin and I move on to look at how to plan your season by identifying your goal or target events. We discuss how to work backwards from these goals in order to plan your build up correctly. This includes making sure you have a firm grounding of general fitness several months before the event, a strong level of specific fitness perhaps a month or so ahead, and then a tapering period in the week or so before your major race.
We also agree on the importance of monitoring your fatigue levels and briefly look at how you might foresee and prevent overtraining. It's really important to be objective when acting as your own coach, taking the rest you need when you feel you might be overdoing it.
In the next episode, we'll look more at preparing for race day. We'll cover some of the mistakes to avoid and how to execute a great taper period, to make sure you're in peak form for when it really matters!
Give us your feedback
As we get going with this new season of the Mountain Bikes Apart podcast, we really want to hear your thoughts on the format and the content of the shows. You can get in touch with Colin and me on the contact page, or via Twitter at @colinmcgray or @bytombell, or leave us a voice message using the 'Voice Message' tool over on the right of this page. We look forward to you dropping us a line!