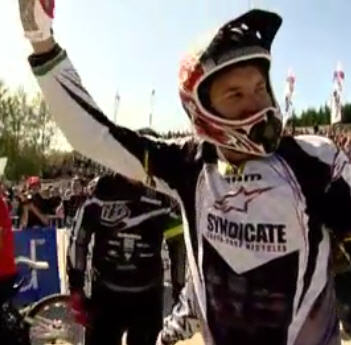 By all accounts it was an awesome return to Fort William for the UCI Mountain Biking World Cup which saw five british riders on the podiums at the end of the day.
I was hoping to make it up for the weekend this year to witness the Fort Bill spectacle but unfortunately, and naturally, work got in the way. Having seen the footage on Freecaster though it looked like a great day out. Next year I'll make it up to the Ben, but in the meantime I've gathered together the results for the downhill, cross country and 4X events. Enjoy!
In the Men's Elite Steve Peat looked set to return to his winning ways when he dislodged Nathan Rennie from the top spot with only two riders to go. It wasn't to be though as Gee Atherton cut Peaty's time by just under a second. British hopes were dashed on the final run by South Africa's Greg Minnar who came in 3 seconds faster than Gee to claim the title. Tracey Mosely was back on form to give Britain a gold in the female Downhill though, beating nearest rival Sabrina Jonnier by more than 4 seconds. Rachael Atherton was a mere second behind Sabrina to take third despite reported problems at the starting gate.
In the 4X another Brit made the podium in the shape of another Atherton, this time Dan. He was just held off to 3rd place though by Joost Wichman while Jared Graves took the crown. In the lady's event Jana Horakova from the Czech Republic took 1st place with Rachel Seydouxand Anneke Beerten 2nd and 3rd respectively.
In the men's cross country race the Swiss took home all three medals after leading for almost the entire race. Florien Vogel came in first, closely followed by Nino Schurter and Christoph Sauser. Oli Beckinsale, the highest placed brit, came in 9th, a minute and a half after the leader. In the women's race an exciting sprint finish saw Marie-Helene Premont triumph over Margarita Fullana, with Sabine Spitz following up for third.
Men's Downhill
1. MINNAAR Greg (RSA) [4:43:52]
2. ATHERTON Gee (GBR) [4:46:69]
3. PEAT Steve (GBR) [4:47:42]
4. RENNIE Nathan (AUS) [4:48:19]
5. HILL Samuel (AUS) [4:48:70]
6. ATHERTON Dan (GBR) [4:49:76]
7. LEOV Justin (NZL) [4:52].38
8. CATHRO Ben (GBR) [4:52:40]
9. BLENKINSOP Samuel (NZL) [4:52:97]
10. PASCAL Mikael (FRA) [4:53:87]
Women's Downhill

1. MOSELEY Tracy (GBR) [5:20:87]
2. JONNIER Sabrina (FRA) [5:25:01]
3. ATHERTON Rachel (GBR) [5:26:76]
4. SUEMASA Mio (JPN) [5:35:64]
5. BUHL Melissa (USA) [5:45:19]
6. GROS Celine (FRA) [5:45:57]
7. NICOLE Myriam (FRA) [5:46:14]
8. GRIFFITHS Fionn (GBR) [5:46:47]
9. MOLCIK Anita (AUT) [5:49:05]
10. PRUITT Kathleen (USA) [5:52:24]
4X Men
1. GRAVES Jared (AUS)
2. WICHMAN Joost (NED)
3. ATHERTON Dan (GBR)
4. PROKOP Michal (CZE)
5. TSCHUGG Guido (GER)
6. ALVAREZ DE LARA LUCA Raphael (ESP)
7. FISCHBACH Johannes (GER)
8. GRACIA Cedric (FRA)
4X Women
1. HORAKOVA Jana (CZE)
2. SEYDOUX Rachel (SUI)
3. BEERTEN Anneke (NED)
4. BUHL Melissa (USA)
5. LABOUNKOVA Romana (CZE)
6. SUEMASA Mio (JPN)
7. MOLCIK Anita (AUT)
8. HUNTINGTON Sarsha (AUS)
Men's Cross Country
1. VOGEL Florian (SUI) [2:06:27]
2. SCHURTER Nino (SUI) [2:06:28]
3. SAUSER Christoph (SUI) [2:06:36]
4. FUGLSANG Jakob (DEN) [2:07:14]
5. STANDER Burry (RSA) [2:07:27]
6. NYS Sven (BEL) [2:07:46]
7.SOUKUP Christoph (AUT) [2:07:47]
8.KESSIAKOFF Fredrik (SWE) [2:07:48]
9. BECKINGSALE Oliver (GBR) [2:07:58]
10. GUJAN Martin (SUI) [2:08:23]
Women's Cross Country
1. PREMONT Marie-Helene (CAN) [2:00:42]
2. FULLANA Margarita (ESP) [2:00:56]
3. SPITZ Sabine (GER) [2:03:53]
4. BYBERG Lene (NOR) [2:04:02]
5. LEBOUCHER Laurence (FRA) [2:04:16]
6. LIU Ying (CHN) [2:04:36]
7. KLEMENCIC Blaza (SLO) [2:05:31]
8. DAHLE FLESJAA Gunn-Rita (NOR) [2:05:39]
9. HENZI Petra (SUI) [2:05:41]
10. RUSCA Maroussia (SUI) [2:06:02]
[tags] UCI, Mountain Bike World Cup, Greg Minnar, Steve Peat, Gee Atherton, results[/tags]