A post from our regular biking writer, Sarah Morton, covering events around the country.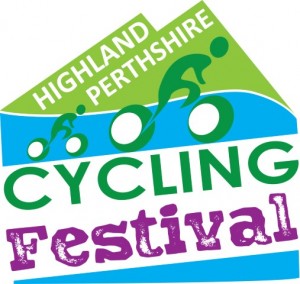 With girls-only biking events cropping up all over the place, I thought it was time I got myself along to one and found out for myself what all the excitement is about!
The event that took my fancy was the 25 mile Girls on Tour ride which was part of the Highland Perthshire Cycling Festival in Aberfeldy – although not a trail ride, with much of the route being on road, it wasn't marketed as a road ride either, so I figured it a safe bet having not been out with a group in quite some time. Additionally, as the event was part of the HP Cycling Festival, there were plenty of other things to get involved with, allowing me to make the most of the drive up to the Highlands.
A Tour De Aberfeldy
I arrived in Aberfeldy to almost perfect cycling conditions – glorious sunshine, and a nice breeze – the wind did increase quite a bit later in the afternoon, but I just got my head down and thought of getting lovely legs in time for summer!
In all, fifteen lady bikers, including locals and not-so-locals from as far as Inverness and Edinburgh, turned up to take part in what was the first girls only event as part of the festival.  We had the pleasure of three guides – Emma, Ellen and Margaret, all of whom really made the day – they had thought out the route so well, and knew lots about the places we stopped off for tea and cake! The ride itself started at Aberfeldy Cycle Centre passing over the bridge to Weam Wood, through Keltneyburn and Fortingall, before ascending a gentle climb towards Glen Lyon where we stopped for lunch in a quaint little wood.
I managed to catch up with Emma, our lead guide, who told me; "The event was designed to cater for middle cyclists – not the speedy-road-bike girls, but not the five-miles-is-a-push girls either.  We also wanted to appeal to appeal to women who might think of themselves as non-cyclists by doing lots of tea and cakes stops along the route – to give more confidence and make it fun, for those who might just be a wee bit nervous."
Definitely One for the Girls
After lunch we zoomed back down the road to Fearnan, along the breathtaking shores of Loch Tay, before heading back towards Dull, and to our last tea and cake stop of the day at Highland Safaris – the lemon drizzle cake is divine!
Although not much mountain biking got done, I'm completely sold on girls events – I can't think of a better way to encourage girls to get out on their bikes or a better way to spend a Sunday afternoon.  It's definitely got as much to do with the company as the event itself – for me this was a social ride – I ate far too much cake for it to have the usual effect a 25-mile ride has on my pins, but it was definitely worth the effort because it was such a great experience – plenty more of that please!
Girls-only events do seem to be cropping up more and more, but they are still a bit thin on the ground in some areas, and contacting your local club or just word-of-mouth seems to be the best way of finding out what's happening.  British Cycling is a great resource for events happening nation-wide – most, but not all, of them require a bit of experience.