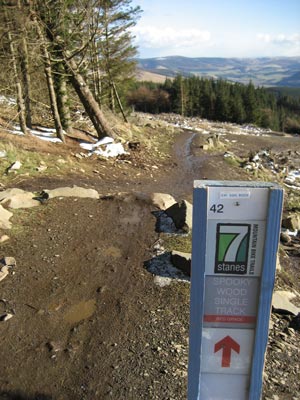 Following on slightly from my post of a couple of weeks ago about taking beginners out biking, I managed to get out this weekend with a couple of guys who were quite the opposite…
A while ago I met a friend of my girlfriend's for the first time and somehow we got onto the subject of mountain biking. It turned out that he was a veteran of downhill racing – not hugely successfully he admitted, but always in the middle of a pretty competitive pack. Naturally I was pretty excited by this and eagerly agreed to meet up with him for some biking at Glentress on the 7 stanes in the near future, hoping to learn some skills from him and see how the experts do it. The 'near future' dragged on and on, in between which he competed at the Edinburgh Fat Face Urban Downhill, but eventually we managed to get our asses out on the hill last Sunday.
I met up with the man himself at the bottom car park at Glentress and was introduced to his younger brother who'd come along for the ride. It turned out the little brother 'used to ride trials' but hadn't done it in years. If he was rusty, however, he wasn't showing it to my untrained eyes!
The boys were sporting a pair of Orange bikes, younger bro on a full sus Orange Patriot and the older on a hard tail Orange Crush, and the sum total of two chain rings between them showed me they weren't bought for the uphills! Despite that though we headed out of the car park and made good time up the hill.
Now, I'll happily admit that I'm far from expert on a mountain bike – I've got years of practice ahead of me and I'm loving learning it – but I like to think I'm not horrendously slow on the way down. As soon as I saw my riding partners sail over the first drop-off at the top of Glentress however – Orange bikes tail-whipping in the wind – I realised just how far I've got to go… I think the difference between someone who's got the hang of it and someone who's simply expert is all in the effort. I can get down and through Spooky Wood at a fair lick, but I'm panting and sweating the whole way down, legs going up and down like the clappers to keep my speed up. I watched the guys cover the first hundred or so metres into the forest going faster than I ever do without any seeming effort at all. They whipped over the jumps smooth as silk, and railed round the berms without losing a jot of speed. In fact, I could see them pumping the terrain to gain speed without even pedalling, and it looked damn impressive.
What followed was a great day for me (and for them I think despite my anchor like presence) in which I followed both of them down, trying to keep to their line and maintain their speed as much as possible. I learned truckloads just seeing how they tackled the obstacles and following in their wake. I was eternally grateful that they weren't really trying to get away, as I've no doubt in my mind they could have in about 2 second flat. They were just enjoying the course and letting me keep up by busting both a lung and my cranks. I lost count of the amount of times we hit a corner at which I thought I was going as fast as possible, only to see them whip round it at twice the speed.
I love my days out with the usual guys, and it's great fun racing each other down the trails, leading and chasing different sections. But if you get the chance to ride with someone way above your level any time soon then grab it, you'll come away a better rider. And if you manage to sabotage their disc brakes slightly so that you can actually keep up, then all's the better…
[tags]7 stanes, glentress, mountain bike, mountain biking, orange [/tags]