The last time I visited Kirroughtree, amost a year ago, I met with disaster – my rear mech disintegrating and resulting in a long push home. This time I finished the trail and it wasn't half worth it.
Kirroughtree is, along with Glentrool, the most out of the way of the 7 Stanes, being nestled in the heart of the South West of Scotland, far from both the motorway and the central belt. You wouldn't know it though from the amount of development that has gone on here to create one of the best cross country trails in the UK. So, straight to the point – yes, Kirroughtree is awesome. For the serious biker it comes in two flavours, the Red and Black trails, but the black is simply an extension of the red and offers 31km of some of the most fun, fast, flowing singletrack you'll ever ride. If you're in a rush the 17km Red route on it's own is still well worth the trip, but you'll have to exercise some will power to turn left at the fork when the black route points off into singletrack nirvana.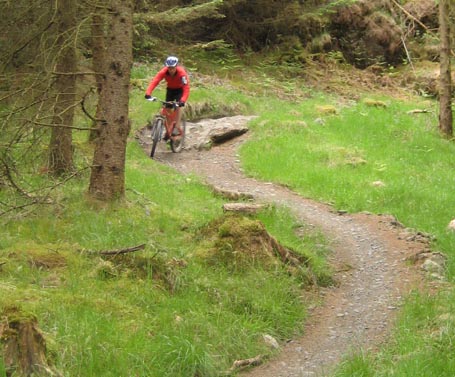 Let's take it back though, I'll get to why it's so good in a bit. As you pull into the car park at Kirroughtree, driving past the standard 7 Stanes signage, you'll find some decent facilities including a small-ish bike shop and a toilet block. There is a free bike wash available consisting of a rail and a hose, but you wont find similar for yourself with no showers present.
Once suited and booted you'll head out following the red and black trail arrows and here's where it gets interesting. I'm not going to describe many individual sections because most of Kirroughtree follows the same template, just interspersed with some really cool little sections, and as soon as you hit the first piece of singletrack after the road you'll get the picture right away. While there are a couple of monster climbs at certain points what you'll mostly find is some of the most flowing trails you've ever seen, somehow gifting you speed the whole way without forcing you to climb for it. Don't get me wrong though, you'll be pedalling like crazy the whole time, but the undulating terrain rewards you for it so quickly that you barely notice you're out of breath.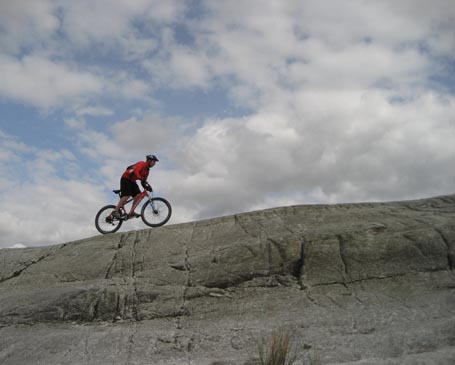 I'm not sure I've ever been on a trail that offers sections where you're going so fast for so long. One section in particular, on the last third or so of the trail felt like an endless series of rollers, berms and drop-offs. With my heart racing and my legs pumping, I kept expecting the flow to end but around every corner was another, and past every drop-off you picked up yet more speed to roll up a slight incline, to be thrown down yet another descent. The laws of physics assure me that I must have had to climb plenty and pedal heartily to go so fast for so long, but Kirroughtree is the closest a trail ever gets to making it feel like it's all downhill.
So, to the features, or really The Feature at Kirroughtree – McMoab. You can forgive the Kirroughtree trail builders for forcing you up one of the only bits of fireroad on the trail just to get to this section as on arrival you can see what attracted them. As you turn off the road you can see a string of rocky islands in a sea of heather which somehow join together in a great curving spine of rock to create a solely rock based section at least a couple of hundred metres long. Some islands are small and some are enormous, great high bastions of rock, but it all looks impressive as hell. It can seem pretty daunting at first but there are a series of little blue arrows that show you where to direct your wheels and help you on the way. At a couple of points, though, I have to admit to stopping dead, looking ahead to the next blue arrow and muttering, "You've got to be kidding…"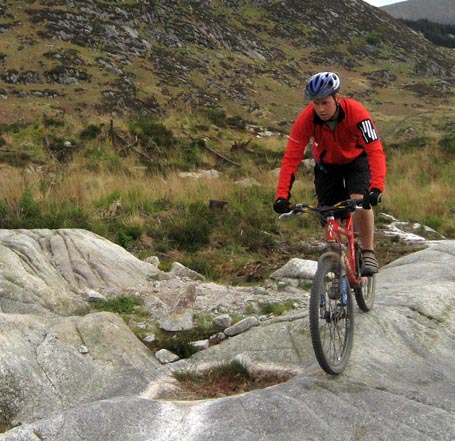 Some small parts of McMoab require the skills of a Trials rider to negotiate, with huge step-ups and deep gaps following little bumps and ridges that just suck your speed from under you. And the very last descent off the rock and onto sweet, sweet soil again is pretty scary, basically consisting of a near vertical ridge (I exaggerate, but only slightly…) of rock less than a foot wide. Admittedly, a lot of it looks harder than it turns out to be and if you just let the tyres roll then the bike generally carries you through. Knowing that and believing it are different things entirely though, especially when you look down at the steep rock beneath you that you know will act like a cheesegrater against your soft, fragile skin if (when…?) you fall.
McMoab is great fun though, and gives you a great sense of acheivement when you nail some of the harder sections. Just when you think it's all over too and you're back on nice soft soil, you're faced with a little fork in the road, the right hand option showing the ominous skull and cross bones and leading back onto the rock. If you choose this path you'll see even more ominous paint on the stone itself warning you away from the 20ft drop to your right, slightly hipocritical I thought considering the path is about to plunge you over the side of it anyway, if in a very slightly more controlled manner. A 20ft near-vertical (honestly this time) drop over the side of the banking takes you back to the road, either on your bike or under it, and you can continue on your merry way.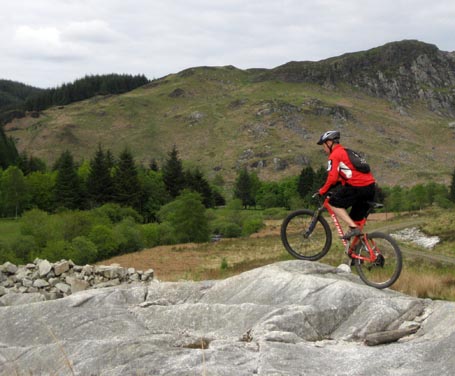 The rest of Kirroughtree has plenty of rocky features, and there are a number of tricky little rock gardens, both on the ups and the downs, to test your skills. If you're looking for jumps and huge custom made berms though you'll be dissapointed as the trail has been kept very natural, the jumps being mostly incidental things created by rocks on the trail. Berms are more numerous but often they're obviously naturally there simply through tyre wear and tear in the corners.
Kirroughtree is a must visit for any mountain biker in the UK looking for an amazing blast through the forest accompanied by some death defying, rock based antics. It's a different trail entirely from the custom-made likes of Glentress or Ae Forest in that it's not the traditional slog uphill – jump, rail and fly your way down. This is continuous, flowing and great. I was absolutely spent by the end of my last run there, but I just wanted to do it again.
[tags]kirroughtree, 7 stanes, mountain, bike, biking, trail, route, guide, review, scotland, uk[/tags]