Staying motivated to ride your mountain bike regularly, can sometimes be a tough old job. It's easy, especially in winter to start skipping rides for convenience and comfort purposes. By simply keeping your mountain biking fresh and exciting though, you can sustain your motivation. What's more, you'll be able to hold onto your riding fitness right the way through to when better weather and longer days roll back around. So here are 5 ways to get that all-important motivational boost.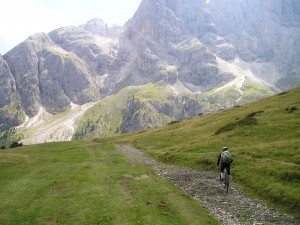 Ride man-made trails 
Purpose built trails like those at Glentress and Innerleithen near the Scottish Borders or Llandegla and Coed-y-Brenin in Wales are perfect places to boost your riding motivation over the winter. These trail centres and others like them are designed to withstand even the worst of the UK weather, making them rideable year-round.
Featuring swooping berms, jumps, drops and roots, man-made trails offer some of the most fun riding you can find anywhere. This ensures you'll have a blast on your ride and can improve your skills at any time of the year. They're also great places to indulge in some well-earned post-ride cake too. Check out the Forestry Commission's website to find mountain bike centres close to you.
Upgrade your gear
A great way to boost your motivation to ride when you need a bit of lift is to upgrade your bike or riding equipment with something new. Getting yourself a new jersey, hydration pack or handlebar can help get you enthused about riding again and make you more eager to get on the trails in spite of the weather.
Upgrading your gear can also make your general riding a lot more comfortable and enjoyable during the winter. Getting hold of some new winter tyres, warm gloves or an insulated jacket can make a huge difference to your motivation levels both during and after a ride. This will improve the likelihood that you'll get out for another ride again soon.
Keep your bike clean
If there's one thing that can really kill your motivation to ride, then a dirty bike with seized bearings and a rusty chain could be it. When you have wet and cold weather to deal with, the last thing you want to be fighting against is your bike. So, keeping it spick and span throughout the winter is imperative for strong motivation levels.
Try to clean your bike after every ride and as soon as possible after you finish each of these rides too. This will ensure that water and dirt from the trail has less time to seep into bearings, suspension and other critical parts. Pay special attention to your bike's bottom bracket and headset areas. Consider removing and re-greasing them on a fairly regular basis.
Not only will starting each ride with a clean bike make riding a lot more pleasant, but will drastically reduce the amount of money you'll spend replacing worn-out components. This is something we can all get behind!
Set some goals
If you're struggling with motivation, it might just be because you haven't got any goals that you're working towards with your riding. Without a bit of direction, you might not have the necessary drive to get out the door and ride. To remedy this, set yourself a few simple goals and objectives for the winter period.
Your goal(s) might be to lose a few pounds, improve your power output or learn how to wheelie or bunny hop. The goal can be anything you like, but always try to make any goal SMART (specific, measureable, attainable, relevant and time-bound). This makes it easy to see progress and you have a clear deadline to work towards. They say that "if you can't measure it, you can't improve it", so make sure to have some way to track your progress (such as daily weigh-ins if trying to lose weight, for example). Keep getting out on your mountain bike to work towards achieving these goals.
Get some riding buddies
Riding with other people when the weather isn't great is one of the best things you can do to boost your motivation and look forward to riding. Riding buddies help to hold us accountable when we've already agreed to ride and good conversation is one of the best distractions from the cold and wet weather too.
Try to find a group with a similar fitness and ability-level to yourself. Then, work on developing your riding together. Exploring new trails and challenging each other on tricky sections will help bring everyone's riding on. You'll be able to transition into the warmer months of the year with a lot of  new skills and fitness in tow.
Photo from Pixabay.
What tips and tricks do you use to up your motivation during the winter? What do you treat yourself to when its time for a bike upgrade? Let us know in the comments below.