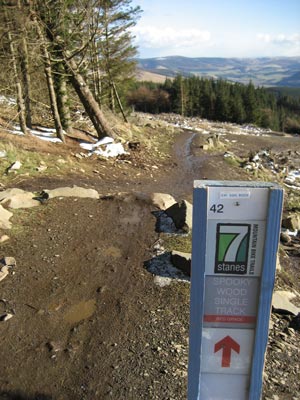 I'm currently in training for a few races that I've been foolish enough to enter over the summer (more details on that soon, still finalising teams!) and I was out at Glentress for a speed circuit last Monday.
I've started timing myself in an attempt to measure whether I'm getting any better and hopefully my new heart rate monitor will be through by the weekend to give me even more info on that. The reason for this post, though, is that I timed myself over quite a few different sections at Glentress, the most interesting of which was spooky wood.
Now, I know I've just said that the intention of this training is to try to get fitter for my races, but of course the bit I'm really interested in, the most fun part, is whether I'm getting faster on the downhills! I thought that probably the best measure of this would be a timed run over Glentress' awesome opening section, Spooky Wood. For those that don't know, Spooky Wood takes you down from the very top of Glentress and into the trees, over endless jumps and berms and is one of the most fun sections of singletrack to be found in Scotland, or the UK for that matter.
It's a reasonably long section so I thought that time gains over it would be quite noticeable, plus it incorporates so many different elements of mountain biking that getting faster on it would show I really was getting better at the whole lot.
Anyway, I was a little imprecise on this first run as I was timing it on my phone which took a little while to press start, put in my pocket, ride Spooky Wood, fish it out and stop it again, but I reckon it only added maybe 10 seconds or so. My time in total was just under 4 minutes, 3.55 to be exact.
Now, while I'm getting better I know I'm not particularly fast yet, so I hope noone's laughing their ass off at my tortoise-esque time! I thought I'd find some times to compare it to on the web given that spooky wood is such a well ridden section, but I can't find any mention anywhere at all, so I'd like to put out a general times call here!
If you're reading this and you ride Glentress, whether once a week or once a year, send me your fastest Spooky Wood time and we'll compile a little list here to give us all an idea of what can be done and have a go at improving. I know I always need a bit of motivation and competition to put the work in so if I see that someone's got down in sub-3 mins then that gives me something to aim for. I've no doubt that there's some ridiculously fast times out there, probably halving mine, but I can take it, bring on the humiliation!
[tags]7 stanes, glentress, training, fitness, downhill, timed, racing, mountain, bike, biking[/tags]