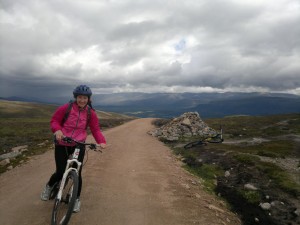 For some just the thought of getting into the saddle as a fully grown adult is enough to send a shudder down their spine, but if you've been thinking about getting into the saddle again it can be both a positive and daunting experience, especially as a woman.
Cycling isn't a natural movement for the body, and most women who haven't continued to cycle through their teenage years probably won't have been on a bike since childhood. Without a partner or friend willing to show you the ropes, it can be a minefield trying to work out just where to start. That's why we've put together this guide to cycling for women, aiming to help you get back in the saddle.
Summer is absolutely the best time to take up cycling – if you get into the habit and fall in love with cycling when the weather is good, it makes it so much easier to keep at it in the colder months, or when needs must, take up indoors biking.   And, shake off the image of pros on TV – it takes years to get to that level, and your thighs will most likely never get that size – fear not!
Where to Start
For some of us, it's not quite as simple as hopping on your bike and away you go – perhaps because of where you live, not having the right equipment, confidence or even the local weather conditions.
Often the best starting point is indoors – at home or a gym – it's a great way to scope out if cycling is really for you and also to get used to the motion of riding a bike again, obviously you'll still have to work on balance once on a bike, but at least you'll know what to do once you're in the saddle for real!
When you're ready to brave the great outdoors, suss out some routes – there are loads online, and lots of reviews to give you an idea of what to expect, work out your daily commute to work or join a local club or group who go on regular rides.  Be realistic and don't try to attempt routes that are above your current ability – you'll just end up hating it.  It's much better to build up gradually – that includes time, distance, gradient and technicality.
What to wear
Contrary to popular belief, you really don't need to wear skin-tight Lycra and the swishest brands – it's genuinely better to be comfortable!  Of course, you can peddle in anything you like, but if you're planning to cycle as a sport, then sports clothing is probably the best starting option.
Close fitting trousers, like leggings, are essential – so you don't get hems caught up in the chain, a good top, fleece – if you get cold easily and a waterproof layer – go for fast wicking stuff if you can afford to.  Good socks and gloves – your digits can get really cold if it's windy, and a good hat – merino is what I usually go for.  When you're just starting out, a good, comfy pair of sneakers makes perfect footwear – trail sneakers are particularly good as they have good ridges in the soles that fit nicely into peddles.
Training tips and fitting it into your schedule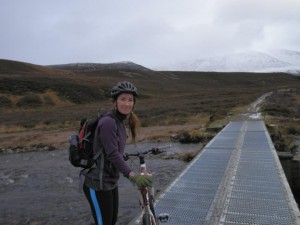 Training and scheduling are usually the biggest barriers for women wanting to get into biking – however, the pros of getting fit far outweigh the cons, and if you really want to find the time – you will.  Time spent watching TV, online, shopping, even eating, can be cut down, and usually once you get active, it's easy to replace old activities with your new ones.
Cycling is often enough training for most people who just want to be healthy, but it's also great to mix it up with perhaps running and swimming, to work different muscles and ensure your whole body is getting worked out.  It's vital to include some sort of stretching routine – cycling really tightens the muscles, and if you don't stretch, you'll start to run into problems – injury, decreased performance and muscles strains.  Yoga is perfect, and I'm quite partial to the odd power plate session as well! Beyond this article, there are quite a few resources on cycling for women (check out this great book: Every Woman's Guide to Cycling) or have a look in your local book shop.
Results
Like any sport it can be months before you start to see any major results, but you should start to see a difference in your attitude to food, your skin and your energy levels in quite a short space of time.  A massive misconception is that you can eat what you like when you're training – the truth is, if you don't eat healthy the results just won't come.  You do have to be patient – it's different for everyone, but it does happen.
A great way to actually see your progress is to use an app specifically designed to track your training schedule, so even if you can't see the inches coming off your thighs, you will be able to see how your time improved on your favourite route.
The most important thing when you're starting out is not to take it too seriously – it's supposed to be fun and if that's how you approach it, everything else will just fall into place!