Last weekend I went along to a training weekend for the Scottish Mountain Bike Leader Association's Trail Cycle Leader award, or the SMBLA TCL. I've already talked about the first day of the TCL in my last post, now we're onto the second day and the hard stuff: riding skills and leading a group!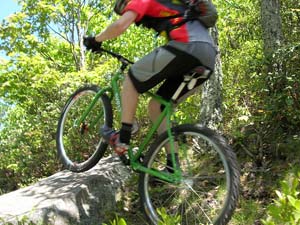 On the second day we had the one session I thought I might be lacking a bit in, and that was the ride skills training. For the assessment you need to be able to do a track stand to a reasonable level, along with a front wheel lift, both manual and powered. Now, I'm fine with manuals and I'm getting better at trackstands but, to be honest, I've never got the hang of wheelies, mainly due to never having really practised it! Even better, one of the guys on my course had been riding since he was about 10 and was trackstanding for about 10minutes 1-handed so I was feeling a little inadequate. Neil was great though, and explained the moves no problem. By the end of the session I was getting a good 2 or 3 seconds on my wheelies (technically a powered front wheel lift for you text-book fans) and had discovered that you only need to track-stand for 5 seconds on the assessment. With a bit of practise before the assessment I felt there would be no problem.
The last afternoon of the weekend was spent actually leading out on the trail which was a great learning experience. We had to plan a route card for a leg of trail in Hamsterley forest, about 5km long with plenty of turns, and on the route card you have to measure distance and time estimates. This was where one assessment worry crept in as you have to estimate both correctly to within 10%. Distance isn't too much of a bother as you can use ruler and string to measure it out on the map, but the time is obviously a little more variable. The SMBLA book has a table for estimating times based on type of terrain, steepness, etc, but still, there's some difference between a fat lad on a Toy's R Us full-sus special and a lycra-clad, shaven legged whippet on a carbon GT. You just have to try and find the middle group and take a best guess. Admittedly, once out on the trail you can be checking the watch and altering speed accordingly but it's a tight margin for error nonetheless.
The leading went well anyway, and everyone got to within a pretty good margin on the navigation. Two of us were a little slow on our times but, considering one of the guys was a triathlete in training and another was an active road racer, we decided the group was probably a little faster than your average so all was forgiven.
After arriving back from our leading escapades all that was left to do was a little review, the filling out of forms and a few farewells. Looking back at the weekend I'm still impressed with how much I learned. I was a little arrogant going in, thinking that there might be an element of simply ticking the boxes before going for assessment, but having done it I'm planning to take at least a couple of months to practise everything before going forward.
I think the course would be useful to anyone into biking, even if they never intend to earn money as a trail cycle leader. Everyone takes out a friend new to biking at some point and Neil had plenty of advice on working with new riders and equalising groups. Also, some of the equipment and trailside maintenance advice will definately come in handy for a multi-day ride I'm planning for next month, and the skills training itself will certainly improve my riding next time I'm out at Glentress.
So, next step is the assessment and attempting to get within the magic 10% with my time estimates. If you're out on the trail in a couple of months and see a pretty stressed looking guy frantically checking his watch and dragging a group along by the helmet straps then say hello. I probably wont reply, my attention darting between watch and map, but at least I'll know I'm giving someone a laugh.
[tags]Scottish mountain bike leader's association, SMBLA, TCL, mountain, bike, training[/tags]
Images under CC License: Rhizopogon, Flickr.