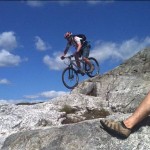 This is The Mountain Bikes Apart Podcast, Episode 4, welcome!
Thanks for coming back for another episode of the Mountain Bikes Apart Podcast. And it's a special one, because, at last, it's a coversation! I've got a friend of mine, Grant Milne, on this week, hopefully the start of a regular co-hosting gig. He's pretty new to biking having started up a bit over a year ago. I'm hoping that inexperience will help us out on the show as he can ask the hard questions, and tell me when I'm throwing in too much jargon.
As I mentioned in the first episode, this Podcast is aimed at everyone who loves mountain biking, but it'll be particularly useful for those who are new to the sport. We'll be talking about how to get into biking, how to choose a bike, how to buy new kit and upgrade. We'll also be going into all sorts of other biking chat around trails, skills and the like, and while there should be a lot for intermediate to advanced bikers, we're always going to cover the basics first. 
The First Year of Mountain Biking: A Beginner's Story
So, to help out the biking newbies out there, we thought we'd start Grant's stint on the podcast by talking through his his first year as a mountain biker. We talked about how he got into the sport, and how he progressed through his first couple of bikes. One of the question I'm asked most often, by far, is how to choose your first bike, and where to progress from there. That's exactly why I ended up putting together my 'What Mountain Bike' guide, to take new mountain bikers through that journey, and help them to buy the right mountain bike in the first place.
Anyway, listen to the episode and you can hear how Grant went through the bike buying process, what he bought and how his skills developed over his first year of riding.
Tell me What you Want to Hear
I need to know what you want to hear on the next episode of The Mountain Bikes Apart Podcast. Tell me what topics you want covered, and who you want me to get on for interview. I'll do my best to get them involved! Just drop me a line through the comments below, or via my contact page, or get in touch via the twitternets at @colinmcgray.
Look forward to seeing you on the next Mountain Bikes Apart Podcast. Talk to you then!
Podcast: Play in new window | Download