On this episode I'm talking bike building, something that's always been really popular here on the site. I'm currently starting out on a new bike building project so it seemed a good time to cover the basics and talk about how you can do the same yourself.
Never Miss an Episode
Join 1000s of existing subscribers & get notified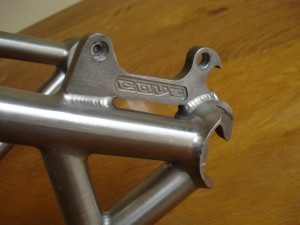 This topic came from the fact that I've been toying with a new bike build for a couple of years now, particularly at a UK project, using as much home grown kit as possible. It seems ridiculous that it's been that long, but there was a small mishap inbetween that put it all back a little. Well, now's the time and I've managed to get hold of a second hand Cove Hummer Titanium frame in excellent condition.
I know I was talking about UK parts, but the OnOne 456 Titanium that I've been coveting just isn't getting any closer. I don't really understand On-One's approach to sales – I've been waiting for this to come back in stock for months now, but they're no closer. Even speaking to one of the guys on the phone, they haven't a clue when they'll be getting more frames in. Anyway, years back I had been dreaming about a Titanium Cover Hummer, and then one just dropped into my lap. Can't complain.
So, next step is the build. I have just about all of the components that I need, I just need to put them together. I've already had the headset fitted (I talk in the podcast about the fact that that's the only part I don't do myself, partly due to a lack of the specialist kit, and partly because it's so cheap and easy to have it done) and my new bottom bracket just arrived. That means I can get started on the drive train.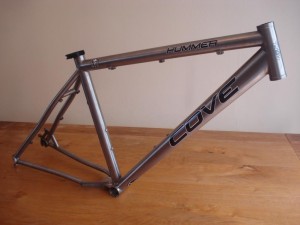 I want to put together a set of videos based on this build, so look out for those appearing over the coming weeks. I'll run through how to put all the components together and show how easy most of it is. My aim is to encourage as many people as possible to try putting together their own steed. It's just amazing how much more ownership and attachment you have over that bike when you've put that much effort into it. It's worth it, I promise you.
A Question for You
My question for you on this episode is, what's putting you off building your own bike? Have you simply no interest at all in the work involved, or would you like to but just don't know where to start? Drop a comment in below about what you want to know about bike building. I look forward to hearing from you!
Podcast: Play in new window | Download